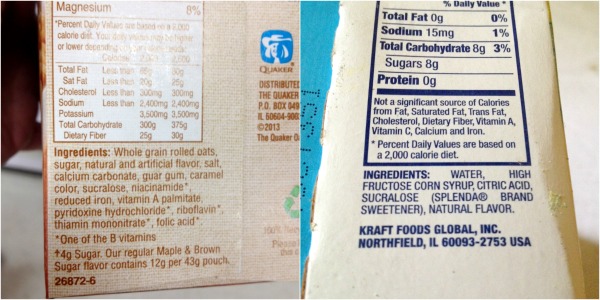 So you know those Fruit2O waters that were basically double free at Jewel last week? I passed because they contain Sucralose (Splenda). Low carb MashupDad eats Splenda products like candy, which is a story for another day — but I've always hated it, so never consume anything with Splenda. The kids would have it occasionally, but as I'm reading more and paying more attention to food labels, I'm less comfortable giving it to them at all. (And I'm pretty sure it upsets Junior High Guy's digestive system, so he hasn't had any in months.)
And then when we were at Target today, I was about to grab the lower sugar Quaker Maple & Brown Sugar oatmeal, but then paused to read the label. Yup. Instead of just making the packets less sweet, they choose instead to substitute Sucralose for some of the sugar. (And now that I'm reading further, I see that the regular contains a whopping 12g sugar per packet — ack. Those are NOT big packets! And I did buy a box of that, since I was so focused on the Splenda thing on the other, doh.)
The photo on the right is Capri Sun Roaring Waters, where you think, hey, "water," it's got to be better than their regular pouches of liquid HFCS. But look — you get BOTH Sucralose AND HFCS in these. Yum. 😉
I've been talking with my mom about how she lost so much weight over the past year and a half, and she attributes most of it to just reading food labels. I'm not getting rid of existing products in my house (except maybe this Capri Sun, which is really, really bugging me), but am working on making better choices from here on out. You can't always assume that "lower sugar" means something just contains less sugar, or that the only thing you have to worry about with pickles is the sodium, or that the only things in your chopped garlic in water are chopped garlic and water, or that salsa shouldn't have corn syrup in it — it's taking  a while to get these things through my head, but we'll get there.
What ingredients have you been surprised by on food labels recently?
P.S. — Never fear, I'll still post deals on Capri Sun and Quaker low sugar oatmeal and Claussen and everything else; everyone makes their own food choices. I'm just kind of musing aloud about labels I've been surprised by and how difficult it is sometimes to make those choices, because who woulda thunk it?