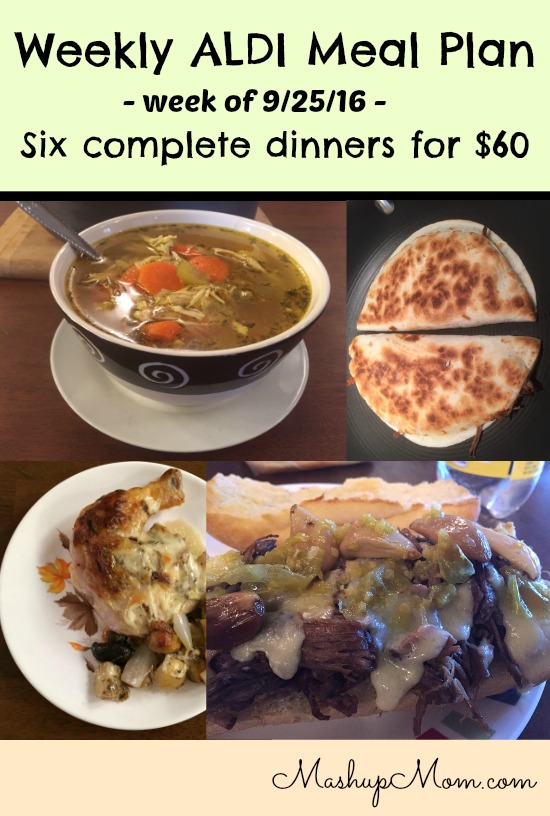 Trying something new… How about an easy ALDI meal plan for this week? Pick up everything on the shopping list below on Friday or Saturday, then start cooking on Sunday! Hope you find it useful. 🙂
Note: I try not to repeat the same recipe here more than once a month, but you will see favorite easy recipes come up again on these weekly ALDI meal plans as the same meats and produce items come up on sale again. ?
ALDI meal plan week of 9/25/16 – 10/1/16
Six complete dinners for a family of four for $60.00
Note: Prices here are collected from this week's ad and my local store, but may vary by location. You'll also have a lot of leftover soup, which can either be served as a starter for meals later in the week or reheated for lunches! (And, you'll end up with extras on some ingredients like shredded cheddar, sour cream, salsa, and bagged onions, which can carry over to next week's meal plan…) I'm assuming here you already have pantry basics like olive oil and spices on hand.
Six Easy Dinners from ALDI for $60.00
Sunday: Awesomely Fantastic Homemade Chicken Soup. Sides: Italian salad with chopped cucumber, onion, diced tomato, & Parmesan, plus one baguette.
Monday: Spaghetti Squash with pesto & Parmesan. Sides: Roasted garlic bread (made with the second baguette and oven roasted garlic), sauteed spinach with Parmesan, cantaloupe. * To make the spaghetti squash, prick it all over with a sharp knife and bake in a baking dish at 350 degrees for one hour, or until soft. Scoop out seeds, then scrape out the flesh in "spaghetti" strings. Mix with pesto and top with Parmesan.
Tuesday: Slow Cooker Italian Beef made with whole garlic cloves, served on French rolls with mozzarella + the peppers, garlic, and juice from the pot. Sides: Baked potato wedges, celery and carrot sticks, sliced tomatoes & cucumber.
Wednesday: Leftover Italian beef + black bean quesadillas. Serve with salsa, sour cream, diced tomatoes, & sliced avocado. Sides: Garden salad, grapes, cantaloupe.
Thursday: Snap Crackle Pop Chicken Legs (use half the pack) with Parmesan. Sides: Baked potatoes, grapes.
Friday: One Pot Mozzarella Chicken Dinner (use other half of the chicken legs and mozzarella). Side: Steamed broccoli.
Saturday: Leftovers — or date night :)!
Shopping list
Dairy & refrigerated
Priano shredded Parmesan tub, $1.69
Bag cheddar cheese, 12 oz, $2.69
Priano 16 oz mozzarella, $3.29
Sour cream, $1.19
Grocery
Pack flour tortillas, $.85
Can of organic black beans, $.79
Jar of Casa Mamita salsa, $1.49.
Jar pepperoncini, $1.49
Beef broth can, $.49
French rolls, $2.85
Italian dressing, $1.29
Priano pesto sauce, $1.29 (note: kids won't eat pesto? Substitute Reggano pasta sauce for $.99)
2 baguettes, $2.98
Meat
One whole chicken, ~$4.00
Chuck roast, ~7.50
About 5 lbs chicken legs, ~$5.50
Produce
One spaghetti squash, $.99
2 lb bag of carrots, $1.29
Celery, $1.39
Bag of yellow onions, $.99
Bag garden salad, $.49
Bag Italian salad, $1.99
Bag spinach, $1.79
Three pack garlic heads, $.99
2 lbs organic red grapes, $2.38
16 oz Roma tomatoes, $.79
8 oz mushrooms, $.69
5 lb baking potatoes, $1.99
16 oz broccoli,$1.49
Cucumber, $.69
Cantaloupe, $1.49
Avocado, $.90
—————————————-
Total: $59.73
You can adapt this ALDI meal plan
Adapt this ALDI meal plan to your own family's preferences or use it to supplement your own meal planning for the week. These meals will likely run you even less if you supplement this week's ALDI purchases with clearance meat you already have in your freezer, produce you have on hand, and/or sale produce from your local produce market. Let me know if you give it a try!
Browse all the weekly ALDI meal plans here, noting that some prices may have changed since originally posted.