Disney Princess party in your near future? You may need this WILTON Disney Princess Cupcake 3-Tier Stand Kit – Holds 24 Cupcakes!
for your DISNEY PRINCESS OVERLOAD.
Disney Princess Cupcake Stand Kit
Includes 24 Baking Cups & 24 Tierra Fun Pix
Holds Up To 24 Cupcakes
Easy-To-Assemble
Everything You Need For Your Perfect Princess Party!
Eligible for Prime or super saver shipping over $25.00.
(Thanks, Penny Pinchin Mom)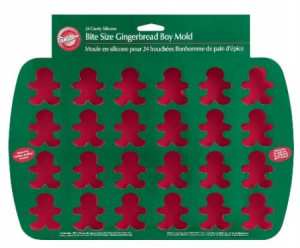 Wilton 24 Cavity Silicone Gingerbread Boy Mold Pan
is down to $4.85 on Amazon and eligible for Prime or super saver.
As always, Amazon prices change quickly sometimes.
(Thanks, Bargain Briana)
Animal Puzzle Cakes! Build-A-Cake Set
, just $4.98 and eligible for free super saver shipping. These look brilliant! lol

Enjoy the fun of a party cake with the convenience of cupcakes! Arrange the shaped silicone cups on a baking pan, fill and bake, then decorate and serve. Decorating Puzzle Cakes!™ is easy! Check the instructions inside for 3 fun designs (bear, fish, and turtle) you can create using simple icing techniques and colorful candies. Or, use your imagination and create more fun shapes of your own.
As always, Amazon prices can change quickly.
(Thanks, Couponista Queen)
Price drop on this! Wilton 2109-859 50-Piece Tool and Caddy Decorating Set
is down to just $28.43 shipped on Amazon — another nice gift idea!

Your Amazon prices are subject to swift change.
These Wilton Disposable 12 Inch Decorating Bags, Pack Of 24
are down to just $3.80, too.
(Thanks, Rose Knows Coupons)
Hurry! The lightning deal on Amazon Gold Box right now is on this Wilton 50-piece tool and caddy cake decorating set.
$39.99. Selling out fast! Since I took this screen shot 60 seconds ago, up to 47% sold.
I was just looking for something else entirely and ran across this Wilton 2104-6667 12 Piece Cupcake Decorating Set
for $4.99 at Amazon, eligible for super saver shipping. As always, your Amazon pricing can change quickly, but currently it seems like a pretty good price!

Wilton Leaves and Acorns 9-Piece Aluminum Cookie Cutter Set
… OK, it's definitely fall now! And this is just $7.96 with free shipping.
As always, Amazon pricing can change quickly!
(Thanks, Time 2 Save)
There are a few nice price drops on Wilton items over at Walmart.com. Choose in-store pickup to avoid shipping charges.
This Wilton Backyardigans Pablo Cake Pan
is down to just $3.99 on Amazon and eligible for Prime or free super saver shipping over $25.00. Great. Now I have their theme song in my head. Anyway, as always, prices on Amazon can change quickly…
(Thanks, Raining Hot Coupons)
The annual Wilton Tent sale is starting next weekend! June 3-21 in Woodridge:
The Wilton Tent Sale, which is held in Woodridge, Illinois, is a popular event for cake decorators and crafters. This year's Wilton Tent Sale will offer amazing deals on a wide selection of Wilton cake decorating and baking supplies as well as kitchen and paper craft products from Copco, EK Success Brands and K & Company.
I know some of you look forward to this every year!