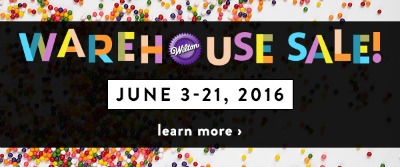 Hey hey, this just opened this afternoon: The Wilton Tent Sale 2016 has outgrown its tent and is now morphing into the Wilton Warehouse sale! Same location, just indoors this year, with similar savings.
Sale runs: Friday June 3 – Tuesday June 21, 2016

Doors open: Friday 6/3/16 at 1PM CST
Hours: Mon-Fri 9AM-8PM, and Sat-Sun 8AM-6PM

Location: Wilton HQ at 2240 W. 75th St. in Woodridge, IL
Time to stock up
The annual Wilton Tent Sale is moving indoors. Score the same great savings in the same location, now held inside the Wilton Warehouse. It's the perfect time to stock up on your cake decorating and craft supplies, up to 75% OFF!
Mark your calendars for the Wilton Tent Sale 2016 — I mean, Wilton Warehouse Sale 2016! ? And, sign up here for emails from Wilton for more info plus 15% off your next purchase.