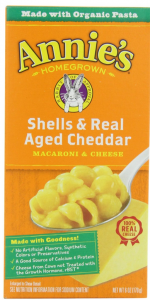 Get a 12 pack of Annie's Homegrown Shells & Real Aged Cheddar made with organic pasta and Organic Valley cheese for $20.11 shipped when you clip the 15% off coupon on the page and check out with subscribe & save, or $1.68 a box.
Made with 100% Real Organic Valley Cheese
Certified Organic
Good Source of Calcium & Protein
No Artificial Flavors, Synthetic Colors, or Preservatives.
Cheese from cows not treated with growth hormone rBST (no significant difference has been shown between milk derived from rBST-treated and non rBST-treated cows).
Prices on Amazon often change quickly. Coupons are limit one per account, you need to be logged in to see and clip them, and they will come off just the first shipment. You can cancel subscribe & save or skip a shipment at any time. You get 5% off and free shipping with subscribe & save, which increases to 15% off if you have five subscriptions on the same day/month, or 20% off if you have five + Amazon Mom with Prime — in which case your price will be even lower than shown above!