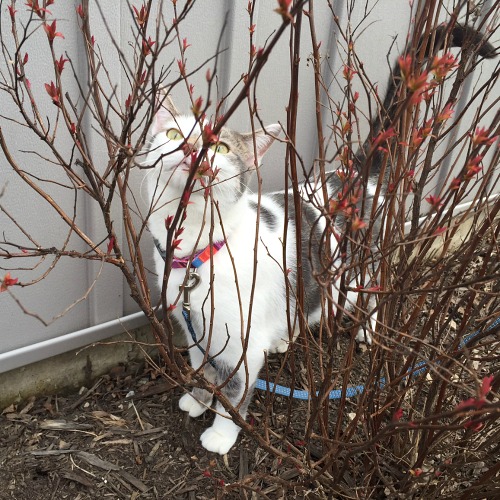 Let's play spot the cat in this photo… anyone? Bueller?
Mr. 10 has been taking BKL for "a walk" in the yard whenever it's nice out (so: yesterday, NOT today…) — which basically means that she meanders around and sniffs things at her leisure while he follows her everywhere. It's great entertainment for everyone!
---
Two freebies on Jewel MyMixx this weekend, so head over and load free 22 oz frozen Ling Ling fried rice and free 16 oz SunnyD (tangy orange, sweet & smooth, or watermelon). Clip today and redeem through 3/27.
While you're loading digital coupons, we also have a few new ones to print:
There are also Arby's coupons in tomorrow's paper, but the printable is higher value.
While you're printing online coupons, if you pick up a Sunday Chicago Tribune there are a slew of Long John Silver's coupons on the front of Red Plum if you want some fried fish this week. Also $2.00/1 CoverGirl product in there, while SmartSource has BOGO Mentos Now Mints, $3.00/1 Hormel party tray, $1.00/4 KIND bars, $.60/1 Bertolli olive oil, and $1.50/2 Bertolli sauce. Also look for $1.00/1 Fisher recipe nuts and $1.00/1 Finlandia product, and watch for that 7 oz butter to be on sale for $1.99 at Jewel next week. (It's good!)
On the back of SmartSource there is an ad for $10 eye exams at Chicago area Visionworks for a limited time.
If you're looking for subscribe & save deals on Amazon today, here are a few ideas:
I am trying to picture lavender scented garbage bags. Does that really work?
This looks interesting: Check out the annual One of a Kind Spring Show at the Mart, and get yourself a discount ticket over on Goldstar.
If you've ever found yourself ogling the array of amazing creations for sale on Etsy, then you have a bit of an idea what's in store for you at the annual One of a Kind Spring Show — only in this case, you can see everything in person before you buy. Browse original, handmade items from more than 300 artists at The Mart in Chicago, including accessories, ceramics, clothing, fiber art, furniture, glass, jewelry, metalworks, paintings, paper products, photographs, sculptures and even pet products. Stock up on quality artisan goods for home, bath & body, kitchen, outdoor and beyond as you enjoy daily live entertainment, tasty food available for purchase, and more.
Not your cup of handmade items? Browse more discount event tickets here.
Nothing Bundt Cakes is back on LocalFlavor, so pick up your half price voucher while available! Pay $15 for $30 worth of bundt-cake-goodness at the Wheaton, Elmhurst, or Darien locations.
Got magazines? Get more on the March Madness Super Sale this weekend over at DiscountMags, with subscriptions starting as low as $4.75 a year. Check it out if you've been waiting for a deal on one of your favorites.
And if you have been waiting for a sale on one of these Gotham Steel 10.25″ ceramic + titanium nonstick fry pans, here's your chance to pick one up for $16.99 shipped from the As Seen on TV store on eBay!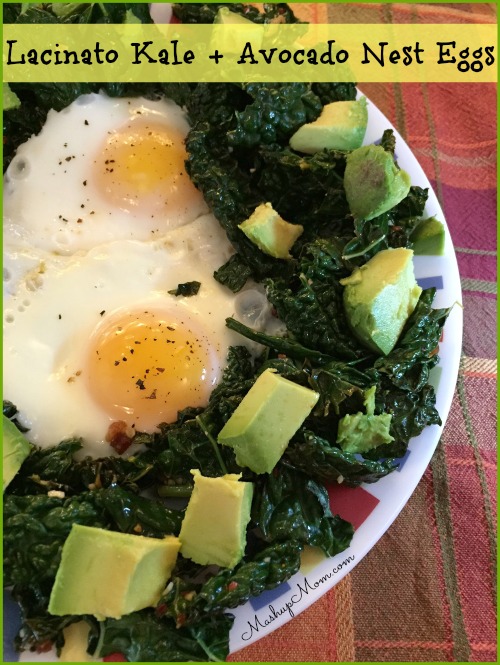 Then use your new skillet to make these yummy Lacinato Kale + Avocado Nest Eggs — kale has been on sale at the produce stores lately!
---
Prices on Amazon often change quickly; price(s) current as of the time and date of this post. You can cancel subscribe & save or skip a shipment at any time. You get 5% off and free shipping with subscribe & save, or 15% off if you have five subscriptions on the same day/month. For more about coupons & subscribe & save, see the guide here.