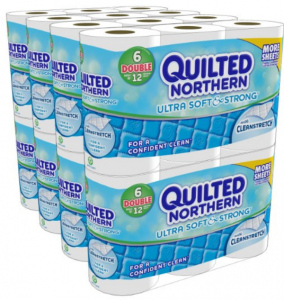 Amazon has 48 double rolls of Quilted Northern toilet paper for as low as $19.15! Choose Subscribe & Save and have 5 subscriptions to get this price.
Don't want to do that? No problem! This product is also part of the buy 3 get 1 free back-to-school promo, so buy 4 and even without subscribe and save, you're paying just 18.7 cents per single roll equivalent!
Want the best deal? Buy 4 and checkout with Subscribe & Save and have 5 total subscriptions and you'll pay just $0.15 per single roll equivalent after 20% discount and B3G1 free promo!
—————–
Prices on Amazon often change quickly. You need to be logged in to see and clip coupons, which are limit one per account and will come off just the first shipment. You can cancel subscribe & save or skip a shipment at any time. You get 5% off and free shipping with subscribe & save, which increases to 15% off if you have five subscriptions on the same day/month, or 20% off if you have five + Amazon Mom with Prime.

(For more about combining coupons with subscribe & save, see the guide here.)