About
Where have you ended up, and who's behind this site?
About this site
Mashup Mom launched in January 2009 to provide couponing, frugality, and work-at-home strategies and advice. Since I'm based in the Chicago area, you'll find Illinois grocery store matchups here — but those of you outside of Illinois will also find ways to save everywhere from national drugstore chains to Amazon.
I'm also the author of The Complete Idiot's Guide to Couponing,published April 2012. What's in it? Everything from…
Different types of coupons and how to use each most effectively, to
Stacking coupons to maximize savings
Earning money back from shopping trips
Saving money while shopping online
Couponing for special diets, including shopping for organics and allergen-free items
Organizing coupons—and organizing the stockpile of purchases
Finding the deals
To sharing couponing bounty with others — and more!
While Mashup Mom provides ongoing deals and advice, The Complete Idiot's Guide provides the background for effective couponing and outlines strategies for maximizing your savings.
About Rachel
I'm a former librarian, now mashing up a new career as a freelance writer, editor, workshop leader, blogger — and mom to two boys!
My most recent book, The Complete Idiot's Guide to Couponing packs everything I know about couponing into one step-by-step guide, for those of you who are newer to the process, who want a handy reference, or who are dipping into different areas such as apps, online savings, or shopping for organics or other special diets. I hope this also helps those of you who have wanted to get your friends and family into couponing — just refer them to The Complete Idiot's Guide to help them get started!
Most of my earlier writing was for librarians, and my last library-related book, What's the Alternative? Career Options for Librarians and Info Pros, helped focus my thinking on alternative career paths and how to make work-at-home — well — work.
This led to my first book on couponing and saving, Point, Click, and Save: Mashup Mom's Guide to Saving and Making Money Online, which discusses the best ways to combine (or mash up) money-saving and money-making strategies to help us ride out today's turbulent economic times.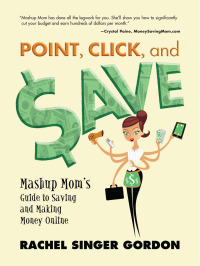 It talks about everything from finding and using coupons to their best effect, to playing the grocery and drugstore games, to sorting out legitimate online work-at-home opportunities; it explains how to mash up your money-saving and money-making strategies to find the balance that works for you and your family. The book honors the reality that taking the time in to strategize, coupon, and plan is in itself a job, and the fact that many "stay-at-home moms" also bring in an income through side work. It recognizes that the internet provides our best resource for connecting with each other and finding up-to-date information, coupons, and deals. Lastly, Point, Click, and Save focuses on realistic ways to save and change our spending habits, rather than highlighting exceptional shopping trips staged for tv cameras.
What's a mashup mom?
Online, mashups combine data from two different sources to create something completely new. In real life, many moms similarly combine at-home money-making and money-saving strategies to create a new model of motherhood: Mashup Moms, who fail to fit neatly into the media-created divide between working and stay-at-home mothers. Mashup Moms — and dads! — also find themselves uniquely situated to ride out today's turbulent economic times; these strategies become ever-more-important in an era of sky-high gas prices, double-digit increases in grocery staples, and collapsing financial institutions.
So, how do mashup moms make and save money, even as the economy implodes? They use technology to network with one another to save time and money. This blog provides solid and practical advice on using online resources to help us work at home while spending less, organizing both work and home life, and saving more on everyday purchases.