New ZAYCON events just announced! We'll have to get through some of the 38 lbs of chicken in the freezer from the last event first, lol (OK, it was 40 lbs, but we ate some already). But we're already looking forward to BACON in February, since it's a great price — bacon has been so expensive lately, and Zaycon bacon (say that three times fast) is very good. So here's what I see coming up in IL:
December: 93/7 ground beef, Applewood smoked ham, and Belgian waffles.
January: Chicken strip fritters, Maple chicken sausage patties, Frozen Alaskan Sockeye Salmon ($8.99/lb!), Frozen Alaskan cod.
February: BACON, pork sausage links.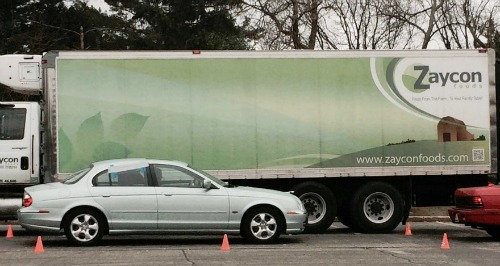 MashupDad came home amused with this photo of a Jaguar picking up chicken at the most recent event!
What's a Zaycon?
If you're not familiar with Zaycon Foods,
They sell fresh meat products by the case.
Head to local pickup locations at a specified date and time to pick up your order.
They schedule events across the country.
How much meat was that, again?
This varies by type, since there's so much on offer this time. Representative examples include:
40 lbs 93/7 ground beef, $4.49/lb = $179.60 + food tax.
36 lbs hickory smoked bacon, $3.79/lb = $136.44 + food tax.
20 lbs pork sausage links, $2.89 lb = $57.80 + food tax.
25 lbs frozen Alaskan sockeye salmon, $8.99/lb = $224.75 + food tax.
Pickup locations and getting together to split this stuff

Chicken pickup locations in the Chicago area include: Oak Brook, Wheaton, Elk Grove, Bolingbrook, Naperville, Aurora, Glenview, Orland Park, Gurnee, Lindenhurst, DeKalb, Kankakee, Rockford, and Joliet.
Hopefully there is a date and time that will work for you. Head over to Zaycon to place your order now.
Please feel free to chat and get together in comments about splitting orders, if these events are too large for your family.
You can also talk about splitting orders over in the Mashup Mom Coupon Trading Facebook group.
See the Zaycon site for specific pickup locations and times for these events.