Heads up for those of you that shop in the northern suburbs. First of all, the Joe Caputo & Sons in Elk Grove Village will be closing on Sunday.
Less than three months after opening, Joe Caputo & Sons grocery store in Elk Grove Village will close its doors Sunday in the wake of a federal lawsuit accusing the family-owned independent grocery chain of failing to pay for $3.6 million in produce.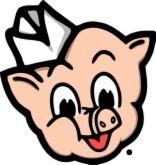 Also, Dawn shares that the Wisted's Piggly Wiggly in Woodstock is closing per a sign in the window, and is currently at 20% off. Update: Here's a new article about the store's closing.