Amazon's 12 Days of Deals launched today with: All Things Disney! Today you can score discounts on popular Disney items, including lightning deals on now.
50% or more off girls' Disney sleepwear and Frozen tops; 50% or more off bedding.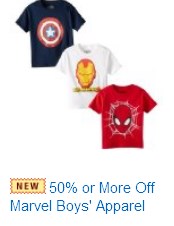 50% or more off boys' Marvel apparel.
Lots more! Check out the Amazon Disney sale here to kick off their 12 Days of Deals.