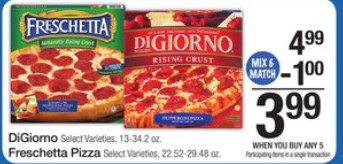 Starting today 6/17 at Food 4 Less (Chicago area), select DiGiorno is on a buy five, save $5 instantly sale at $3.99 after instant savings. Catalina deal through 7/12 — running at Kroger so should print at F4L: Buy 2 DiGiorno large pizzas, get $1.00 OYNO. Buy three, get $2.00 OYNO. Buy four or more, get $3.00 OYNO. Here's your deal:
Buy four DiGiorno pizzas at $15.96 after instant savings (let's hope Pizzeria is included!). Use four coupons: $1.00/1 DiGiorno Pizzeria (if included) in the 5/17 SS. Print $1.05/1 DiGiorno Pizzeria.
For your fifth item to trigger instant savings, maybe Old Orchard 100% apple juice 64 oz for $.99. Print $.50/1 here.
After four $1.05 coupons and the $.50/1 coupon, you'll pay $12.25 for four pizzas and an apple juice.
Get back $3.00 OYNO for a net cost of $9.25 — which is like paying $2.31 per pizza + a free bottle of juice.