Print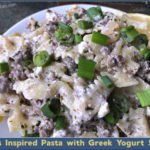 Gyros Inspired Pasta with Greek Yogurt Sauce
Gyros Inspired Pasta with Greek Yogurt Sauce combines the gyros flavor you love with a smooth & tangy yogurt + feta sauce over a plate of pasta -- all in a simple 30 minute weeknight meal!
- for the sauce
1

cup

Greek yogurt

4

oz

crumbled feta

Juice of 1/4 of a lemon

1

tsp

parsley

1/2

tsp

minced garlic

about one clove

Black pepper

to taste
- for the pasta
12

oz

bowtie pasta

farfalle
Start the water boiling for pasta
Make the sauce
Combine yogurt, feta, lemon juice, parsley, garlic, and black pepper in a medium bowl, breaking up any very large crumbles of feta you find. Stir well, then let the sauce sit out while you cook up the rest of the meal, so that it's not super cold when you mix it in with the pasta.
Brown the beef
Chop onion. Brown the ground beef, onion, and garlic together in a large skillet over medium-high heat, breaking up clumps as you go, until cooked through (about 8 minutes).

While the beef is browning, combine the oregano, rosemary, parsley, Kosher salt, and black pepper in a small  bowl.

Drain the beef and return it to the skillet, then stir in the oregano-rosemary seasoning mixture plus 3/4 of a cup of water. Reduce heat to medium-low and simmer for 4-5 minutes, or until much of the liquid has been absorbed but beef is still moist.
Cook the pasta
Meanwhile, cook the pasta al dente according to package directions and drain, reserving about 1/2 cup of the pasta water. Return the drained pasta to its pot.
Assemble the dish
Stir the yogurt sauce into the cooked pasta, thinning out with a little reserved pasta water at a time as necessary or desired. Once the noodles are nice and saucy, stir in the seasoned ground beef.

Top your gyros inspired pasta with chopped green onion or fresh parsley, if desired.
You could easily also make this gyros pasta gluten free by substituting your favorite GF pasta of choice.