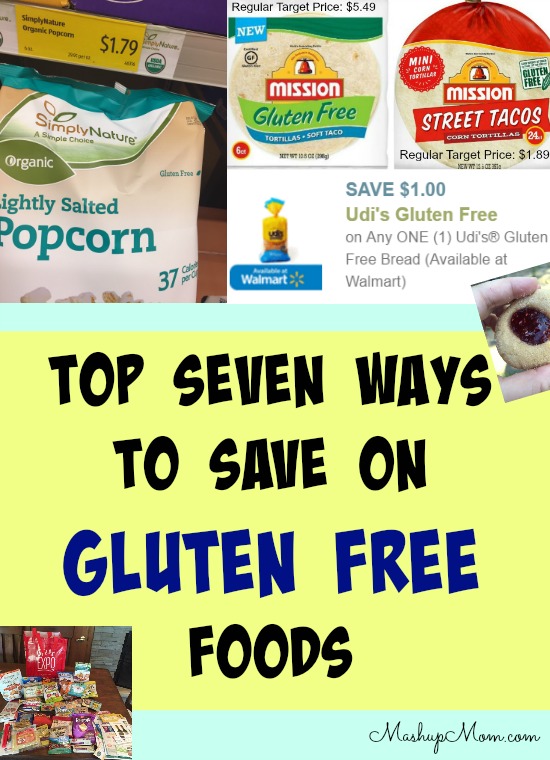 Someone asked me the other day about how to save on gluten free foods because a new GF diet was proving costly and overwhelming. After pulling thoughts and advice for him from multiple places and my own experience during High School Guy's wheat-free period, I thought it might be useful to write up an updated guide for everyone. (If you have additional ideas and suggestions for how to save money while eating gluten free, please do comment here!)
Top Seven ways to save on Gluten Free Foods
1) Look for "regular" products that are either naturally or certified gluten free, rather than specialty gluten free products
When you look at products that are certified gluten free, those targeted at the general public that just happen to be gluten free will generally be far more affordable than those targeted solely at the gluten free market. It's simple supply and demand, right? The bigger the market, the lower the prices.
Mass market cereals like Rice Chex, Fruity Pebbles, and Cheerios are more affordable than those from smaller specialty gluten free brands; gluten free corn tortillas (check labels) are generally over 50% cheaper than soft taco tortillas specifically marketed as gluten free. I just checked the price of Mission tortillas on the Target site, for instance, and 24 small certified gluten free Mission corn tortillas currently sell for $1.89, while 6 Mission soft taco tortillas marketed as gluten free sell for $5.49 — almost three times as much.
You don't have to give your kids Fruity Pebbles every day, but in addition to the savings benefits, stocking products like Chex or Cheerios or Pebbles in your pantry can help kids with food allergies feel like they're eating the same foods as "everyone else" rather than always being different. Check labels in your local grocery store, which is becoming easier as more companies are starting to put their gluten free labeling right on the front of the package.
2) Use gluten free coupons + offers on cash back apps
You can coupon for gluten free products just as you would for any other products: Gluten free product coupons pop up periodically in both weekly coupon inserts and sites like on Coupons.com and Mambo Sprouts. Keep an eye out for blinkies and peelies in store, check the websites and Facebook pages of your favorite gluten free brands (or go a step further and contact them to ask for coupons!), and always look for opportunities to stack manufacturer coupons with digital offers like Target Cartwheel or printable store coupons from stores like Whole Foods.
Also be sure to check for gluten free product cash back offers to stack on your favorite apps, such as:
Offers from gluten free brands ranging from Enjoy Life to Udi's to Canyon Bakehouse pop up periodically on cash back apps, and any little bit helps.
3) Shop ALDI, Big Lots, Costco, and Trader Joe's
Rather than trying to shoehorn the bulk of your gluten free food shopping into your regular grocery store trip, where the "gluten free and natural products" aisle is usually small and overpriced, try branching out into other stores when you need to stock up. ALDI, Big Lots, Costco, and Trader Joe's all have different gluten free options, so see what's available near you.
ALDI has really stepped up its game over the past couple of years when it comes to gluten free products. Their entire liveGfree line is gluten free, but look beyond there for gluten free options throughout the store. SimplyNature organic popcorn, for instance, is gluten free — and generally cheaper than Skinny Pop! They carry everything from gluten free bread, to baking mixes, to pretzels. So when you don't have coupons on hand or can't find  a current sale to make for a great deal on certified gluten free snacks and other products at your local store, check the everyday prices at ALDI and you might be pleasantly surprised.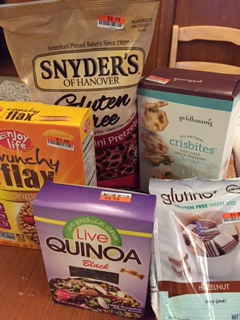 Big Lots is kind of a surprising resource, but they generally have a lot of gluten free products mixed in with their other grocery miscellany, as well as Bob's Red Mill gluten free products and mixes in their Bob's Red Mill section. Sign up for their Buzz Club rewards program online to receive email notifications when they send out coupons (such as 20% off your total purchase or $10/$50), and use those to stock up on random gluten free items at a good price. Note that Big Lots, however, does not accept manufacturer coupons.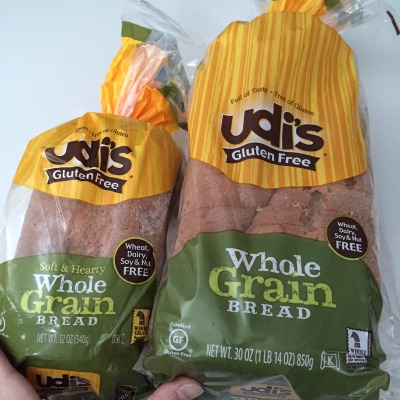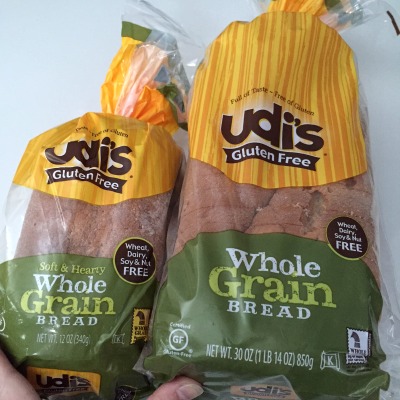 Costco is another great place to pick up gluten free products more cheaply than at your regular supermarket. Gluten free flour, bread, waffles, and more are all much cheaper on a per-ounce basis than their regular grocery store prices. (See also: Gluten Free Prices at Costco — noting that this post is a couple years old, so I'll be updating it the next time I have a chance to do a walk through and take some photos with current pricing.)
If you live near a Trader Joe's, you'll want to check out their gluten free product offerings as well. They have a partial list of gluten free products available on their web site, but often have more available for sale in store. As with ALDI, their gluten free store brands are often priced lower than their comparable name-brand counterparts. (Gluten free ginger snaps and gluten free Joe-Joe's come highly recommended!)
Bonus tip: If you have an ethnic market near you, check for products like gluten free alternative flours and rice there as well.
4) Use Amazon subscribe & save
Shop Amazon's gluten free grocery department here, and shop subscribe & save gluten free items here. Amazon often runs subscribe & save coupons & deals for everything from KIND bars to Pirate's Booty to almond flour, letting you pick up gluten free grocery items and have them delivered right to your door for less than they often run at your local grocery store.
Amazon subscribe & save is also a great resource for saving on naturally gluten free items ranging from nuts to canned tuna.
5) Stalk the clearance section
Every single time you are in a grocery store, visit both the gluten free section and the general clearance section to look for clearance items. I've found everything from gluten free pasta to bread to cookies at good prices, at stores ranging from Target to Jewel-Osco. If someone in your family eats gluten free, you'll want to print and clip coupons for gluten free brands and carry them with you in case you encounter unexpected clearance on your regular shopping trips.
6) Cook and Bake naturally gluten free

When you're thinking side dishes and dinners, think simple: Chili. Chicken soup (sans noodles). Roast chicken. Rice. Roasted veggies. Baked potatoes. Salads (watch the dressings — or make your own). Simple whole foods dinners don't have to be expensive — I just bought a 5 lb bag of potatoes for $.99 last week, for instance. Add some broccoli and cheese to a baked potato and you have a quick, cheap gluten free lunch. Bake or make them into oven fries and you have an easy gluten free side. You don't have to buy expensive boxed mixes when you start thinking about whole foods and cooking naturally gluten free.
You'll also find a treasure trove of gluten free recipes on Pinterest. I run a gluten free recipes group board that contains recipe ideas from a bunch of different bloggers, and also recommend following this ultimate gluten free recipes group board. Here are ten of my favorite gluten free recipes to get you started:
But you'll find so many more recipe ideas that are either naturally gluten free or easily tweaked with a couple of simple ingredient omissions or substitutions.
7) Daily Deals and the Gluten Free Expo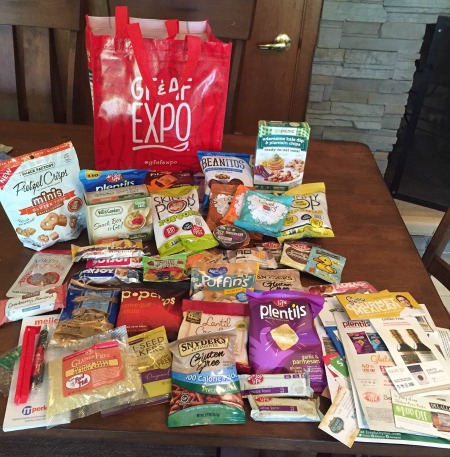 Does the Gluten & Allergy Free Expo swing through a city near you? If so, I highly recommend attending. You can sample a bunch of different gluten free foods, and you'll come home with a bag full of samples and coupons. Look for discount admission vouchers to the GF&AF Expo on daily deal sites like LivingSocial and Groupon to help make for an even bigger return on your investment — and daily deal sites are also a great place to pick up other gluten free products, ranging from magazines to subscription boxes. Pop "gluten free" in the search bar to see what's available near you (but sometimes the selections will be better than others!).
Your turn
These are some of my ideas for saving on gluten free products, but please share your own experiences in comments. Thanks! 🙂