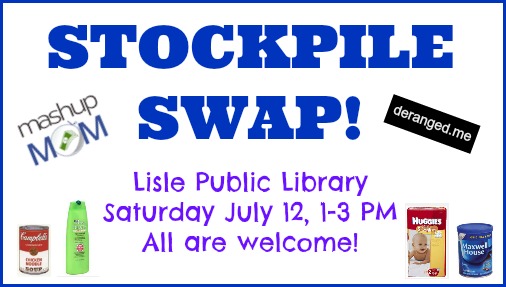 Come on out and join us at our next Stockpile Swap, sponsored by Mashup Mom and deranged.me! We'll be at the Lisle Public Library, IL on Saturday July 12 2014 from 1:00-3:00 PM. Stop on in any time — all are welcome, and no registration is required.
Bring your unneeded stockpile items to share, and bring home new stockpile items from others. Did you end up with extra probiotics, but need low-dose aspirin? Do you have a glut of baby food, but need pet food? Do you have too much peanut butter, but need some soup? Bring your extras, and benefit from others' extras!
Very simple rules
This is a free for all — items will be set out for anyone to take.
Please bring something if you're planning to take something.
Be considerate, so that everyone gets a chance to leave with something new.
If you have a lot of stockpile items, feel free leave them in your car, bring in representative samples, and talk with others about what you have to swap — don't hurt yourself, lol.
No selling. No money can change hands at this event; bring items with the understanding that you're giving them away to others.
If you're looking for something in particular (baby items, cereal, dog food, what have you) feel free to comment here or on the Coupon Trading Facebook group. If you have extras of something in particular, feel free comment with what you might be bringing to share. Swap at your own risk; neither the library, Mashup Mom, nor deranged.me can be liable for how stockpile items have been stored, expiration dates, etc.
Any leftover stockpile items at the end of the event will be donated to the Lisle Township Food Pantry, which serves residents of Lisle and unincorporated parts of Lisle, Naperville and Woodridge.