This is a Sponsored post written by me on behalf of Michelinas for SocialSpark. All opinions are 100% mine.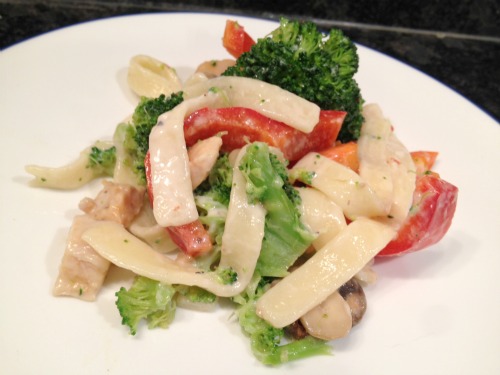 I used to eat a lot of Michelina's back in the day, when I worked full time at a library and didn't have a long lunch break. So this Make It Your Michelina's opportunity was somewhat nostalgic for me — the idea here being to start with a Michelina's entree of your choice, and then make it your own with additional ingredients and a personal touch.
My creation below is based on Michelina's Authentico fettucine alfredo — because, really, how can you go wrong? There are so many ways you can jazz up fettucine, but here I thought I'd add some vitamins and crunch (with fresh colorful veggies), some protein (with pre-cooked chicken strips), and some kick (with crushed red pepper).
Spicy Michelina's Alfredo with chicken and veggies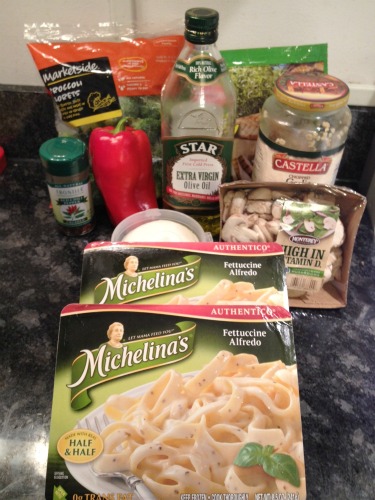 Ingredients
Two boxes Michelina's Fettucine Alfredo
One 12 oz bag fresh broccoli florets
One 7 oz bag pre-cooked chicken strips
One red bell pepper. Slice into rings, then cut rings in half.
One 8 oz container sliced mushrooms
1 1/2 tsp chopped garlic
1/4 cup diced Vidalia onion
1/4 tsp crushed red pepper
Olive oil (for sauteeing veggies)
Directions
Steam broccoli in microwave according to package directions and set aside. Cook Michelina's Fettucine Alfredo (one at a time) in microwave according to package directions, then remove from boxes and place in a large bowl.
Meanwhile, add olive oil to large skillet and saute garlic for about one minute. Add onion and cook until it starts to brown, then add mushrooms and cook until nicely browned. Add broccoli, bell pepper, and chicken, and stir until just heated through. Add crushed red pepper and stir well.
Add veggies to bowl of fettucine and mix well. Serve immediately.
Ta-da!
This took all of about 15 minutes to prep and cook, with the help of the Michelina's and the pre-cut and cooked ingredients. Spicy Michelina's Alfredo with chicken and veggies would be a good option for a quick weeknight dinner. It was also pretty affordable — the Michelina's were under $1.00 each at Walmart, so not bad at all. The red pepper gave it a little kick, while the veggies and chicken took on a nice flavor with the alfredo sauce and noodles.
Check out Michelina's for yourself
Want more Michelina's? Follow Michelina's on Facebook and Follow Michelina's on Twitter to find out more about the brand. You can also check out other Make It Your Michelina's recipes — I was intrigued by these Lettuce Wraps, in particular, since I've never seen the chicken fried rice in stores.