This is a sponsored post. I was invited to write about Quaker by ShopHer Media Influencer Marketing Agency. All opinions here, however, are my own.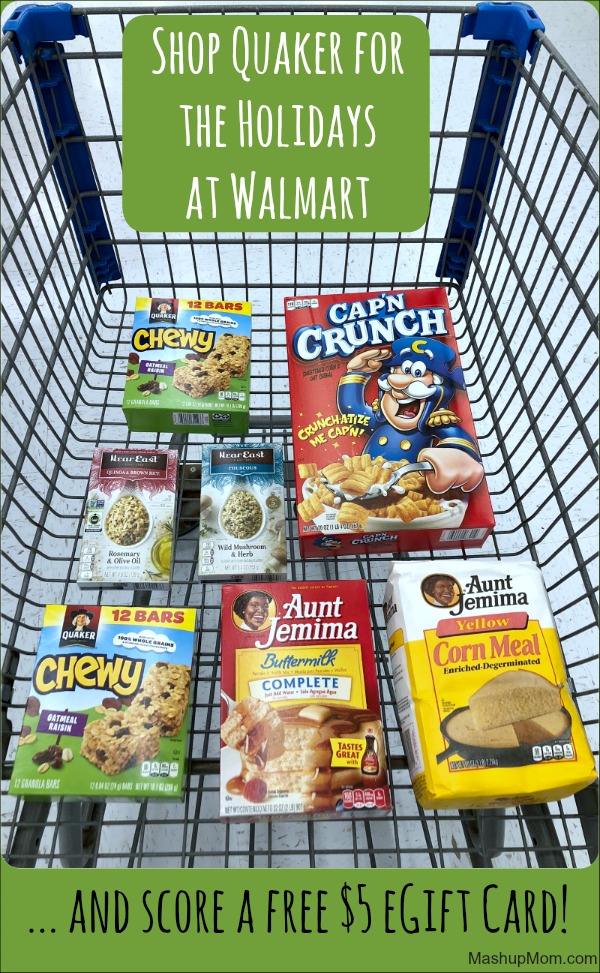 Here's the easiest peasiest gift card rebate offer you ever did do! Be sure to take advantage of this super simple Quaker rebate at Walmart to help make your holiday season a little easier: Now through December 15, get a $5 Walmart eGift card when you buy $15 of participating products in a single transaction online or in store. Just email your receipt to [email protected] (limit one per household).
Yes, that's all you need to do to get yours — 'Tis the season to save BIG at Walmart, and easy enough to redeem right from your phone, right? (I emailed my receipt over to claim my own Walmart eGift card rebate in the car before even leaving the parking lot, just so I wouldn't forget…) Choose from over 400 participating Quaker items here, including Quaker oatmeal, Aunt Jemima, Cap'n Crunch, and more, and you should receive your gift card within about two business days.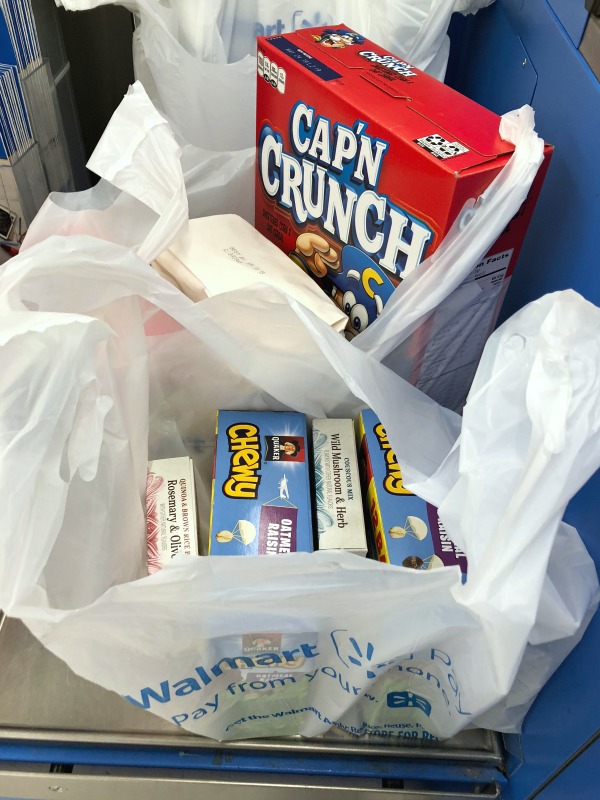 And if you're not a fan of braving the stores this time of year like I did here, remember that this rebate offer is also valid when you purchase participating products online at Walmart.com.
You can find the entire list of qualifying Quaker products at quakerseasonalsavings.com, but here's what I picked up myself for use during and around our holidays here. There's something on this list for every stage of our activities this month, so check it out:
Quaker Chewy Granola Bars and Cap'n Crunch for On-the-Go Snacks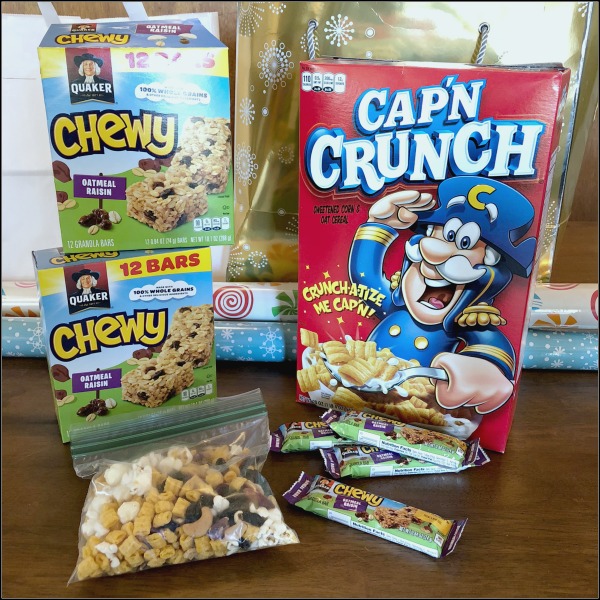 Shop these snacks right from the image above!
So you know how your family is somehow always hungry and begging for snacks as soon as you leave the house to do a little holiday shopping? Well, maybe it's just mine, but this is less of a problem if you have some snacks handy. It's easy to pop a few Quaker chewy granola bars and some homemade Cap'n Crunch trail mix into your bag!
Near East Grains for Thanksgiving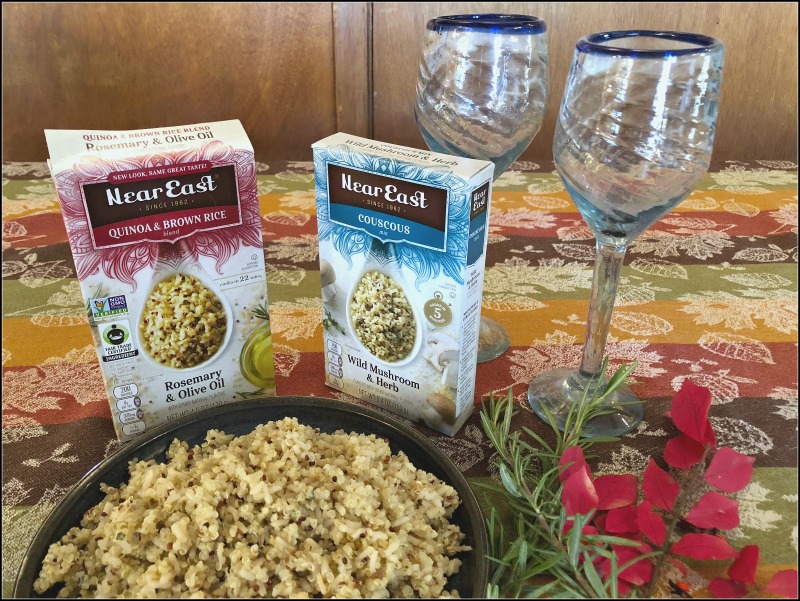 Jazz up your own Thanksgiving: Shop Near East by clicking on the image above
More on the "real food meets real life" front, too: When the rest of your Thanksgiving dinner is complicated and you just can't fit another thing in the oven, these Near East mixes cook up quickly and easily on the stove top. So, there's one simple and flavorful side dish idea to fold into your holiday feast.
Aunt Jemima Buttermilk Complete Pancake Mix for an easy post-holiday breakfast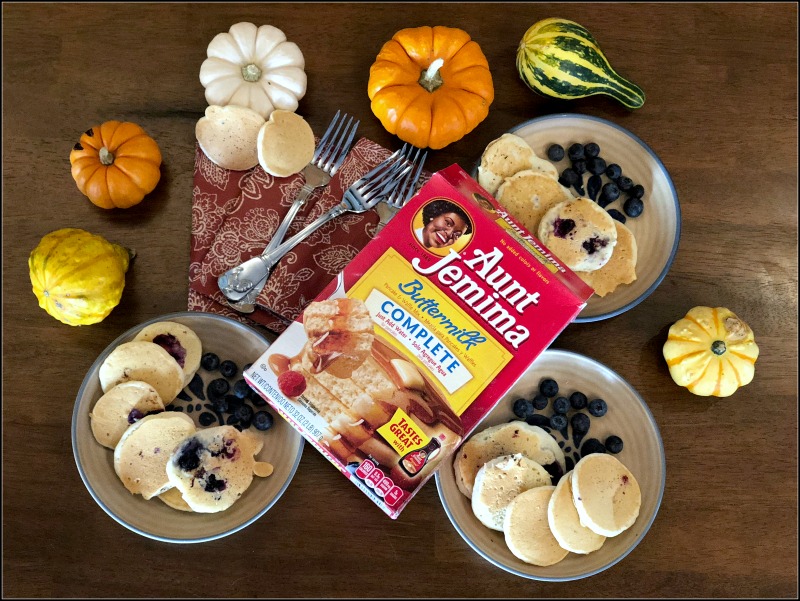 Shop Aunt Jemima Buttermilk Complete Pancake Mix from the image above!
I have to tell you, my family was especially excited about this one. ("I love this kind!") Aside from the blueberries I threw into my pancakes here for some extra pizzazz, Aunt Jemima Buttermilk Complete pancake mix just requires mix + water to cook up a quick batch any time you need an easy post-holiday breakfast. So easy when you're cooked out from the earlier festivities…
Aunt Jemima Yellow Corn Meal for Corn Bread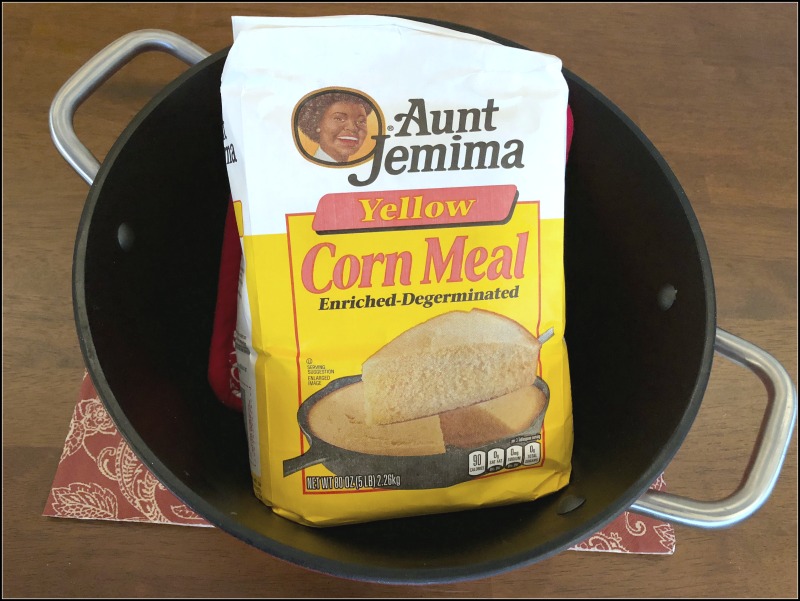 Click the image above to pick up your own Aunt Jemima Yellow Corn Meal this year!
I love to make chili using leftover turkey after Thanksgiving — and, guess what we're having with ours this year! Talk about the quintessential Fall comfort food, and there's even a handy golden corn bread recipe right on the Aunt Jemima Yellow Corn Meal bag, if you have never made it before.
What are you going to pick up?
So, that's my little Quaker haul for the season. Take a look at the huge list of participating products at quakerseasonalsavings.com, and let me know what items you're planning to buy at Walmart to qualify for your own $5 eGift card.