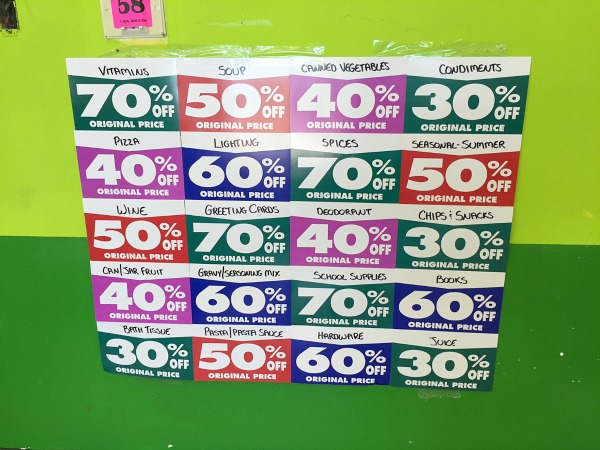 July 19, 2017
Ultra Foods stores in Highland, IN and Kankakee, IL are now slated to close (thanks to Aidan for sharing).
July 12, 2017
Looks like the Strack, Van Til families might have just bought back most of the Strack & Van Til grocery chain in auction (thanks to Caroline for sharing).
July 6, 2017
11 remaining Ultra Foods stores failed to sell in a bankruptcy court supervised auction, which has been adjourned until an unspecified date.
June 5, 2017
I was at the Wheaton Ultra Foods today, and they're starting to wind down. Stores will be closing within the next week or so.
May 15, 2017
Peaches shares that Jewel has put in a bid and is attempting to purchase Strack & Van Til for $100 million. And it looks like this might be close to a done deal.
May 11, 2017 update
Here's a column speculating about the reasons for the Central Grocers bankruptcy. I don't necessarily agree with this bit of speculation — do you? I think that moving away from their core market and trying to keep up by remodeling, adding fancier new options, and raising prices was probably a contributing factor, actually.
May 4, 2017 update
Artie shares that Central Grocers has filed for Chapter 11 bankruptcy and is seeking a court-led auction of assets including its warehouse and Strack & Van Til stores.
This article from the Northwest Indiana Times dated May 4 says that the SVT parent company is expected to wind down in 6-8 weeks.
April 25, 2017 update
Deb shares that the Strack & Van Til parent company warehouse in Joliet is now up for sale.
April 18, 2017 update
Strack & Van Til just announced that they will be closing 9 more Ultra Foods stores in addition to the five stores closing mid-April. The nine Ultra Foods that will be closing by June 18 include:
Joliet
Crestwood
Wheaton
Lansing
Chicago Heights
Calumet Park
Forest Park
Gary (IN)
Merrill Point (IN)
22 stores will continue to operate while Strack & Van Til explores the possibility of selling the stores it will have remaining.
Original post
Heads up for the Illinois/Indiana folks — This came up in the Hot Deals Facebook group today, and I just found an article confirming that several Ultra Foods and Strack's stores are going to be closing:
Ultra Foods Lombard
Ultra Foods Downers Grove
Ultra Foods on Kedzie in Chicago
Strack & Van Til on Kedzie in Chicago
Strack & Van Til at 72nd and Taft in Merrillville
This is sad but not completely surprising news: Ultra in Lombard has been like a ghost town any time I've stopped in there since their remodel. 🙁 I really do think that they misjudged their role in the Chicagoland grocery market when they remodeled stores, raised prices, and tried to go more upscale — they had their low-priced warehouse-y niche down, and totally lost their focus. Hopefully they'll be able to regroup and keep their other stores open.