Somehow I ended up with three competing brands of popcorn here, so thought it would be fun to do a comparison + very limited sample blind taste test!
SkinnyPop is our name brand contender, weighing in at $6.59 for 18 oz at Costco, or 36.6 cents per oz.
SimplyNature is our limited time special buy ALDI contender, weighing in at $1.79 for 6 oz, or 29.8 cents per oz.
Heavenly Light is our CVS store brand contender, weighing in at $.99 for 2.25 oz, or 44 cents per oz. (5 oz is oddly more expensive at $2.49 regular price, or 50 cents per oz.) Full disclosure: I actually got this little bag free with the recent printable CVS coupon, but am listing its everyday price for purposes of comparison.
I opened three fresh bags here and we did a blind taste test among all three.
Behold: Three bowls of popcorn. Which one looks the tastiest? We eat with our eyes, too… 😉 While you're thinking about that, let's see how they stack up ingredient-wise:
SkinnyPop: Popcorn, sunflower oil, and salt. Non-GMO and gluten free. 39 calories per cup.
SimplyNature: Organic popcorn, organic expeller pressed sunflower and/or safflower seed oil, salt. Non-GMO, organic, and gluten free (but processed in a facility that also processes milk, soy, peanuts, tree nuts, and egg). 37 calories per cup.
Heavenly Light: White popcorn, corn oil, and sea salt. Gluten free. 40 calories per cup.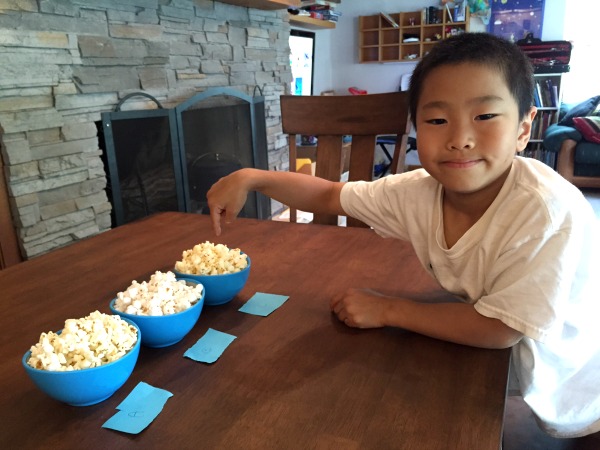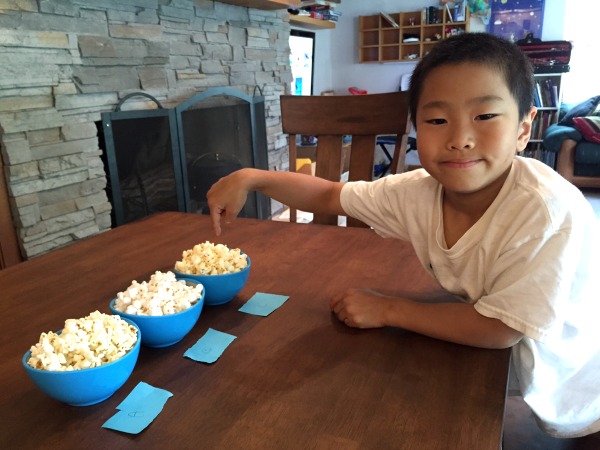 And here's Mr. 8's pick — he was a fan of bowl C.
Good choice, Mr. 8!
… he picked: ALDI SimplyNature brand organic popcorn! In our decidedly limited six person sample here, we have:
Three votes for ALDI SimplyNature (bowl C).
Two votes for SkinnyPop (bowl A).
One vote for CVS Heavenly Light (bowl B).
Reviewers generally commented that SkinnyPop and ALDI SimplyNature were very close in both taste and texture (and tough to pick between!). The general consensus, however, was that CVS Heavenly Light tasted "stale" and "too chewy," while the sole vote for bowl B was because "it's saltier."
ALDI SimplyNature brand wins all around
Aside from narrowly beating out SkinnyPop in our blind taste test, SimplyNature popcorn was the only organic brand tested — and is also the cheapest per ounce, with the fewest calories. Unfortunately this is a limited time special buy item at ALDI, but I'll be picking more up while available! Update: Looks like they've added it into the regular rotation — it's now been at my store for a while!
What's your favorite brand of bagged popcorn?