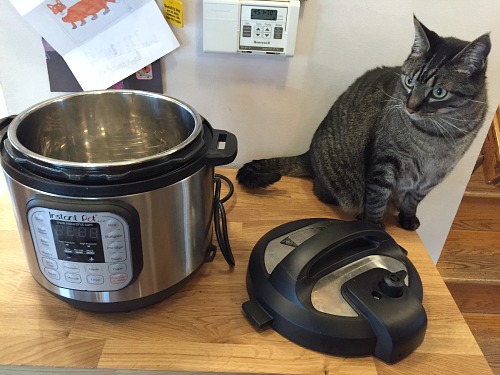 Back in stock as of the morning of 12/15!
———————-
If you don't know what to get your favorite cook (or yourself) this holiday season, might I humbly recommend… The Instant Pot?
Give the gift of faster cooking!
The six quart Instant Pot DUO 7-in-1 just came back in stock at Kohl's at $99.99, but you won't pay that much: You can use code JOLLY30 (card holders) to pay just $69.99, and you'll also get $10 Kohl's Cash back for a net cost of $59.99! Hurry, because I don't know how long this will stay in stock at this price.
If you are looking for the 8 quart Instant Pot, it's available on the same page (switch sizes under price) for $139.99. Use code JOLLY30 to drop it to $97.99 with $10 Kohl's Cash back for a net cost of $87.99 — or add something small to get over $100 for $20 Kohl's Cash back!
Don't have a Kohl's card? Code SAVEMORE20 takes 15% off orders under $100, and 20% off orders $100+ right now.
Yes, I have one!
This is the model I have (shown here with suspicious cat), and it comes in handy for things like:
MashupDad is also fond of using it for ribs (way quicker than the oven) and finishing on the grill!
(Now, if you want to give the gift of slower cooking instead, my workhorse of a 7 quart manual Crock-Pot is also on sale…)