Good morning! It is still morning, right? I haven't updated you on our backyard chickens in a while, so I'll snap some new photos and tell you more about the girls soon. For today, though, just admire their beautiful eggs, which are gorgeous inside and out, with lovely dark yellow yolks and a definite difference in flavor from the cheap store bought ones. (They slacked off some during the winter, but now laying is picking back up for spring.)
Speaking of chickens, I found this NPR story on Why Whole Foods Wants a Slower-Growing Chicken to be both fascinating & timely, because I also just finished reading locally laid — the story of "How a Midwestern family with no agriculture experience went from a few backyard chickens to a full-fledged farm—and discovered why local chicks are better." Don't give MashupDad any ideas! I picked this up at my local library last week, and recommend it to anyone interested in chickens, the local food movement, or even just a good story.
And if you're interested in backyard chickens of your own, there are a number of free Kindle books to check out right now — and be sure to visit the eponymous BackYardChickens.com.
See, look at the color of these yolks! Scratch up some eggs-ellent Lacinato Kale + Avocado Nest Eggs or Ham-ocado Egg Bites. And yes, I do put avocado in everything… the other day I mentioned the new EWG "dirty dozen" list for this year, but you'll be happy to know that avocados top their "clean fifteen" list of conventionally grown fruits & veggies that are least likely to have pesticide residues.
Speaking of spring, check out this big Fiesta ware sale over at Carson's. These are code-excluded bonus buys, but you can get free shipping at $75 with code FREESHIP75. 
One of these days I will have a beautiful light-filled kitchen and my cupboards will be full of Fiesta. As opposed to my current dimly lit kitchen with cupboards full of mismatched Corelle… Wouldn't the farm-fresh eggs look so pretty in this green bowl? 😉
Even "Spring Meadow" Tide Pods are on sale today! Get this 81 load tub for just $13.80 shipped after the $5.00 coupon on the page + subscribe & save, or less, if you are on the 15% off tier. (As always, be aware that Amazon prices can change at any time so check before purchasing. Coupons are limit one per account.)
If your lack of Fiesta ware makes you sad and want to eat out, lol, here is your latest restaurant savings coupon code for today: $25 restaurant gift certificates for just $5.00! To score your discount, enter coupon code RELAX at checkout.
—————
If you're new to Restaurant.com, these are gift certificates you print out and use at the restaurant. To enter the code, add a certificate to your cart, then view your cart. In the top right is a box where you can put in the code. As always with these, read the fine print, because they work much more like coupons than gift certificates and have minimum purchase requirements. Please remember to tip on what you would have paid pre-coupon.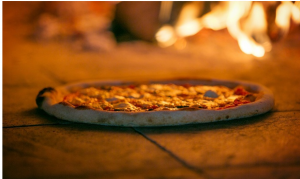 And Groupon has extra savings on Pizza Deals today — so for instance, Bricks Wood Fired Pizza is now 50% off (so two specialty pizzas for just $13). Check out deals on Leona's, Rosati's, and more.
Or make your own at home with these really cheap pizza pans over on Amazon.
A few more morning deals, coupons, and freebies
Through 4/17 you can get an extra 5% off select gift cards (select brands on this page only) at Raise with code TAKE5. Includes Kohl's, CVS, Michaels, and more.
Friday freebies for your cards
Load a digital coupon for a free Essential Everyday frozen waffles to your Shop 'n Save card today and redeem through 4/21.
Your Free Friday Download at Mariano's this week is a free Snapple Tea or Drink — clip today, redeem through 4/29.
Your Free Friday Download at Kroger this week is for a free Tostitos Dip-etizers. Clip today and redeem through 5/1.
More freebies for your week
New coupons for your Friday