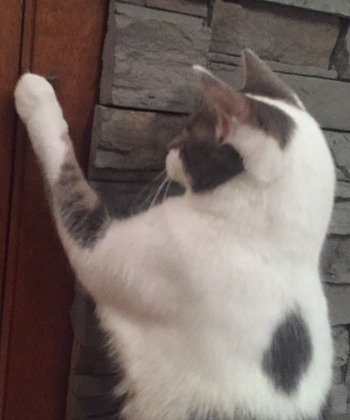 The Notorious BKL spent quite a while last night protecting us from this big bad bug… one might also think she was tormenting it, or, more charitably, indulging her mighty predator instincts.
I'm getting tired of these brown stinkbugs, and don't remember them ever showing up like this in the past?
---
It's a NEW 25% off code for LocalFlavor! These are the best: LocalFlavor already offers half off vouchers for local restaurants and more, so another 25% off that half off makes for some great deals. Today only, use code CHARM to save 25% off local deals at checkout. Here's just a smattering of what's currently up on their site:
Le Peep
Old Town Pizza
Nothing Bundt Cakes
Supermercado La Salsa
Edible Arrangements
Bennigan's
Dairy Queen
Blueberry Hill
Lombard Roller Rink
The Melting Pot
… and more. Throw your own location into the search bar at the top of their site to see what's available near you.
Then as always, let's round up our week of morning mashups with some Friday freebies…
At Chick-fil-A Lombard (probably yours, too, but check): Wear green from 5-8PM today and get a free small frosted lemonade.
Check Friday Fix in your Kmart app for a free 22 oz can of Pedigree wet dog food. Load today and redeem through 3/19.
Your Free Friday Download at Kroger this week is a free Nissin cup noodles. Clip today and redeem through 4/2.
Your Free Friday Download at Mariano's this week is a free Nissin Top Ramen. Clip today and redeem through 3/31.
If you're near a Shop 'n Save, clip an offer for free Essential Everyday salad dressing. Clip today and redeem through 3/23.
Check your Tony's app for a free case of water through tomorrow (thanks to Joan and Mark for sharing).
From freebies, let's move on to printing coupons…
Here are a couple of newer printable coupons for your Friday:
From our printables, let's move to clipping coupons…
While you're thinking coupons and how many papers to buy, Sunday's Chicago Tribune is scheduled to contain two inserts: SmartSource and Red Plum. See the 3/19 insert preview here. Highlights (coupons can vary by region!) include $3.00/1 Alka-Seltzer cold & flu, $3.00/1 Aleve PM, $3.00/1 Blink, $4.00/1 various CeraVe, $1.00/1 Edge or Skintimate, $3.00/2 Huggies, $1.00/1 Jose Ole, $1.00/2 Pop Secret, $3.00/1 various Schick, $.50/1 Halos, $2.50/1 Axe hair care, $3.00/2 Dove hair care, various other Unilever personal care.
And from clipping, let's move to subscribing and saving…
Some lovely Amazon subscribe & save deals for your Friday morning:
So, about that Prime members only thing…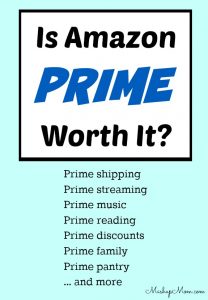 What's up with the Prime only subscribe & save deals? See: Is Amazon Prime Worth It? for an explanation of this and other Prime benefits.
Speaking of Amazon, today only on Gold Box you'll save 20-50% off select Disney Princess items. Some nice prices here on everything from a dress-up trunk to swimsuits to an enchanted tea set to the KidKraft Belle Enchanted Dollhouse for your little fan.
And of course, even nicer prices on Prime Pantry deals…
Have you Primed your Pantry yet this month? We again have a Prime Pantry free shipping offer for March! Check to see if you're holding onto a $5 reward for Prime Pantry for opting into no-rush shipping instead of Prime two-day shipping to stack. That $5 credit is so useful when you use it with:
You don't have to fill the entire box; the 100% is a maximum but there is no minimum. (You can just buy the five items for free shipping and be done, or add whatever else you like — your choice.) Check here to see if you have any no-rush shipping credits on your account.
Then at T.J. Maxx you'll get automatic free shipping on everything today, no minimum and no code needed! Happy St. Patrick's Day to you. 🙂 Free returns in store, too.
Last but not least… it's Fashion Friday at Cents of Style! They're rounding up their birthday week by offering a free gift with every Fashion Friday purchase, free shipping, and a free graphic tee with every $30 purchase using code BIRTHDAYTEE.
When $30 or more is in the cart and one of the tees in the Fashion Friday collection is added, the code will make the graphic t-shirt FREE! (The free gift with every purchase will be added to each shipment.)
---
Prices on Amazon often change quickly; price(s) current as of the time and date of this post. You can cancel subscribe & save or skip a shipment at any time. You get 5% off and free shipping with subscribe & save, or 15% off if you have five subscriptions on the same day/month. For more about coupons & subscribe & save, see the guide here.