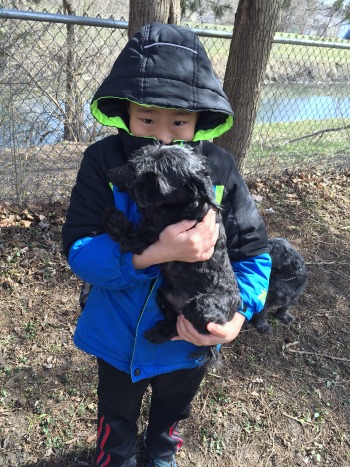 Mr. 10 was cuddling little dogs at a friend's house this past weekend — and BOY, was BKL not pleased when he got home, with much disdainful sniffing. She knows when someone is cheating on her…
---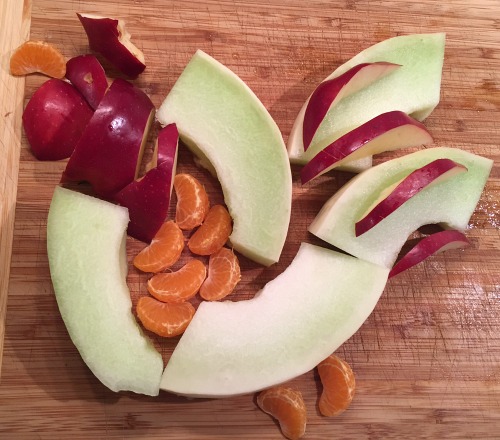 Did you guys see this article on Bloomberg on "How Organic Produce Can Make America Less Healthy?" Among other things it notes that sometimes the fear of pesticides can drive people away from buying fruits and veggies at all when they can't buy organic, which is not a good thing…
Put simply, fear of pesticides can drive people away from fruits and vegetables in general. And even EWG recognizes that's a bad result. ("Eating conventionally grown produce is far better than skipping fruits and vegetables," the group said in its 2016 report.)
See the 2017 "dirty dozen" and "clean fifteen" from the EWG here. I'm curious: What markup are you guys willing to pay for organic fruits and veggies? Do you try to avoid the "dirty dozen," do you buy all organic, or do you only buy organic when it falls into your price range?
Now, since you can't have so many fruits & veggies without the bees, here's a freeBEE for you today: Order a free pack of wildflower seeds from Honey Nut Cheerios to help #bringbackthebees.

And since you can't make this without the bees… it's a good time to revisit this super easy one ingredient recipe for Honey Taffy! This is a great activity to do together with the kids, too.
Growing some of your own produce is always an option: I just saw these Garden Genie Gloves with Claws for digging and planting in one of those viral Facebook videos, and now they're popping up in today's daily deals: . Could these possibly be as cool as they look? $6.99 shipped, or buy two and they drop to $5.99 each. Watch the video on their site and let me know! 😉
Moving on… Check out these Graco deals on Amazon Gold Box today only, including pack 'n play, high chairs, travel systems, jogger strollers, and a nice harness booster.
Kiyonna is offering $50/$150 through 3/20 with code CLOVER (exclusions apply) — I don't have anything from them, but it looks like really well-thought-out plus size apparel.
While Macy's is running a VIP sale through 3/19 — up to an extra 30% off with code VIP, including designers that rarely go on sale.
And let's revisit our theme of the day by going all organic, all the time on the Amazon subscribe & save deals this morning…
Amazon subscribe & save is a great place to save on everything from organic foods to allergy-friendly products — But, if you or a family member are living with food allergies, I also highly recommend attending this year's Gluten & Allergen Free Expo.
This year it will be at the Schaumburg Convention Center, and Goldstar has discount tickets.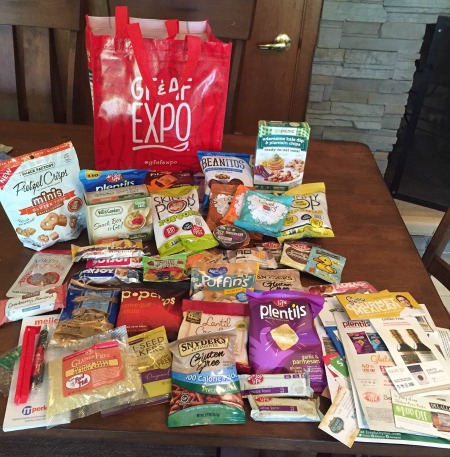 I went a couple of years ago, and above are some of the samples and coupons I walked away with — it's a great way to find out about and sample a nice variety of gluten free & allergen friendly products.
You can still savor the good things in life, no matter what kind of food allergy you may be stuck with. The Schaumburg Gluten Free and Allergen Friendly Expo widens your eyes to a whole new world of savory and safe foods with samples, classes, coupons and more. Over 100 brands will be exhibiting treats and discounts to make your grocery shopping easier, and educational panels will teach you a thing or two on how to live a gluten-free lifestyle. Your favorite brands, restaurants, authors and bloggers will be around for a meet and greet, as well as a chance to get some seriously helpful advice about your allergies. Walk out of the Schaumburg Convention Center with a complimentary reusable tote bag to lug all those goodies, too.
Not your cup of expo? Browse more discount event tickets here.
---
Prices on Amazon often change quickly; price(s) current as of the time and date of this post. You can cancel subscribe & save or skip a shipment at any time. You get 5% off and free shipping with subscribe & save, or 15% off if you have five subscriptions on the same day/month. For more about coupons & subscribe & save, see the guide here.