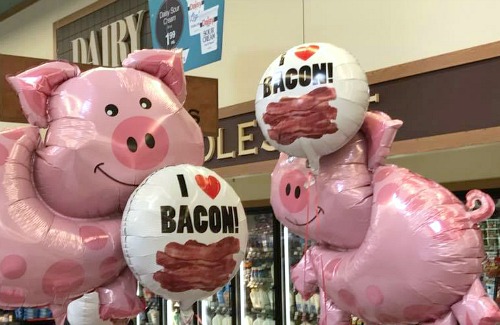 It's the day of pig-related items, I guess: MashupDad was with me at Jewel this weekend when we saw these balloons, and now can't stop laughing about the "cannibal pigs." Mr. 10 wants us to go back again to earn more Monopoly pieces — he's very into it this year, so I guess their marketing is working on him!
---
We have several great new McCormick coupons to print this morning:
Great time to restock the spice cupboard! (While you're at it, also print this $2.00/1 Colgate mouthwash coupon and use on the smaller Optic White and Total Advanced rinses at Walgreens: Buy one for $3.99, use coupon = $1.99, and get back $2.00 RR for a net cost of free.)
And then you can get to restocking your pantry with subscribe & save deals like:
And if you need a new printer to print those coupons…
Today only Best Buy has the HP Envy 5663 wireless all-in-one printer on sale for just $69.99 shipped.
Print, scan and copy from all your devices with this HP Envy all-in-one wireless printer. It prints in both black and white and full color, and its automatic duplexing capability saves paper. This HP Envy all-in-one wireless printer's photo paper tray lets you make quick 4'H x 6'W prints from your camera or smartphone.
Need ink to go with that new printer?
Cheaper cheap printer ink can be yours again this month with the latest ComboInk deal: 12% off your entire order with code AFF12OFF.
ComboInk sells remanufactured ink and toner at waaaay lower prices than OEM, and I have used them for years — great place for cheap printer ink and cheap laser toner. Their toner is in both our printers right now! They also have a one year money back guarantee.
Look how cheery: Cents of Style is celebrating its 10th birthday today by offering ten popular items for $10 each with code BIRTHDAY10. Get automatic free shipping, too! And rock your new "Life is Beautiful" tee with your new floral pleated skirt. 🙂 Sale is today only, so get celebrating…
Then wear your new gear to date night at Tony n' Tina's Wedding! How fun would this be? Discount tickets are available over on Goldstar.
Presented by the original New York producers in conjunction with Chicago Theater Works, one of Chicago's longest-running, smash hit shows, Tony n' Tina's Wedding returns — and everyone's invited! You and the other audience members are treated like family at this interactive improvisational comedy. The fun starts with the happy couple's wedding ceremony inside a real church (Resurrection Church), followed by the all-inclusive reception just one block away at Vinnie Black's Coliseum, featuring a full Italian dinner, wedding cake, dancing to great music and lots of love and laughs. As part of the audience, you're considered a wedding guest and are allowed to mix, mingle and interact with all of the participants. You never know what drama you might get swept up in with this crazy Italian family! The improvisational nature of the show lets you go multiple times and see different stories play out each time.
Not your cup of improv comedy? Browse more discount event tickets here.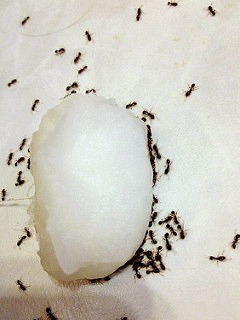 We're getting little ants in our kitchen again (EVERY single spring!), so I'm getting ready to lock up the cats for a while and do Borax again. See how to get rid of ants with Borax if you're experiencing similar issues.
---
Prices on Amazon often change quickly; price(s) current as of the time and date of this post. You can cancel subscribe & save or skip a shipment at any time. You get 5% off and free shipping with subscribe & save, or 15% off if you have five subscriptions on the same day/month. For more about coupons & subscribe & save, see the guide here.