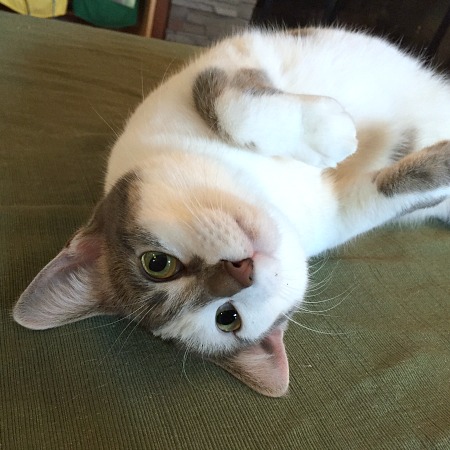 You know who has this lazy Sunday thing down pat? Yeah, the notorious BKL is all over it… The kids made themselves pancakes and eggs this morning, so yay them — just don't ask about the state of my kitchen right now, though. 😉
---
If you need some new reading material for your lazy Sunday, Amazon has select Kindle books on sale at up to 80% off, today only.
I managed to fight off the lazy long enough to make it over to CVS this morning and use a $6/$30 coupon that came in email — haven't been there since the last time they sent an email coupon, and my ECB were expiring. Two L'Oreal Advanced, two Maybelline Great Lash, two six-pack Irish Spring bar soap, milk, and Palmolive. Used $4.00/2 L'Oreal and two $.50/1 Irish Spring from today's paper, two $3.00/1 Maybelline 1/29 RP2, $.25/1 Palmolive, $2.00/$6.00 bar soap from the Coupon Center, $6/$30, and $8 ECB. Paid $6.15 and got $12 ECB for a net cost of $2.15.
What did you pick up at the drugstores today?
That Palmolive coupon is new today, so let's see what else we spy to print…
And now, let's explore our grocery & household subscribe & save options for the morning:
You might think this is a Kate Spade clutch, but no — it's actually a…. Kate Spade Bluetooth speaker! Today only at Best Buy you can pick up a Kate Spade Bluetooth speaker for $29.99, with free two day shipping. Ooh la fancy, lol.
You know what goes well with Kate Spade? Crocs, that's what. Get up to 60% off various clearance styles of Crocs, no code needed, plus free shipping at $25.00. Choose from Star Wars, Elmo, Realtree, fuzz lined, Crocband, and more.
And here's the perfect way to wind things up this morning: You've likely heard of Hamilton — but have you heard of SHAMILTON: The Improvised Musical? Get your discount tickets over on Goldstar:
Move over, Hamilton — You won't know which other historical heroes want to sing their hearts out until Shamilton! shows ya who, improvising an entire musical based off YOUR suggestions. After completing a sold-out run at L.A.'s Upright Citizens Brigade, famed musical improv team Baby Wants Candy brings the historical hilarity to Chicago. The gang has performed more than 3,000 completely improvised musicals to thousands of fans from Chicago to New York to Singapore to Scotland, and even launched the careers of notables like Thomas Middleditch (Silicon Valley), Jack McBrayer (30 Rock) and Lauren Conlan Adams (The Unbreakable Kimmy Schmidt). Watch history belt a number at the Apollo Theater.
Not your cup of musical improv? Browse more discount event tickets here.
---
Prices on Amazon often change quickly; price(s) current as of the time and date of this post. You can cancel subscribe & save or skip a shipment at any time. You get 5% off and free shipping with subscribe & save, or 15% off if you have five subscriptions on the same day/month. For more about coupons & subscribe & save, see the guide here.