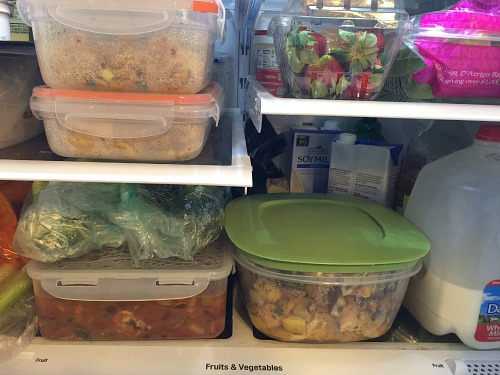 Morning, all! It is still morning, right? I'm still kind of in a NyQuil fog here, so my big accomplishment so far today has been running to Dollar Tree for a paper and swinging through Starbucks for a very large coffee on the way home. Yesterday, however, I made three big meals to tide me and the kids over for a bit while MashupDad is out of town: Vegetable soup, chicken & rice, and chicken thighs with potatoes & green beans — so no worries about cooking tonight. Phew.
---
So, what's in that Chicago Tribune I got today?
Menards is doing 11% back on everything from 2/12-2/18. (Remember that Home Depot matches on in store purchases, and they should update their 11% rebate match form early this week to reflect the new Menards dates.)
As expected: Two Red Plum, one SmartSource.
Highlights include $2.00/1 got2b, B2G1 Purex Crystals, $.55/2 Barilla pasta, $2.00/1 Cover Girl mascara, $3.00/1 various Advil, Robitussin, Dimetapp, $3.00/2 Pantene, $1.00/1 Well Yes! soup, $3.00/1 Revlon lip, $1.50/1 Nutella, $1.00/2 Tropicana, $4.00/1 Schick disposables, $4.00/2 L'Oreal hair expert, $1.00/2 various Quaker oatmeal or squares cereal, $2.00/1 Whole Blends, $2.00/1 Fructis, $.55/1 Silk.
Surprise: Also look for $2.50/1 O Organics fresh chicken, $2.50/1 O Organics beef, and $2.50/1 Open Nature beef, lamb from Jewel. The chicken one might be worth clipping and carrying in case you find clearance in store.
And what did I see at Dollar Tree? We walked around because Mr. 9 had a dollar to spend (final verdict: New yo-yo). My store had Special K brownies, 3 oz Craisins, Nature Valley Raisin Oat Clusters cereal (print $1.00/2 here), Tiny Toast cereal, Nutella & Go, Star Wars cereal, Betty Crocker, Duncan, and Pillsbury cake mixes, and 60w equivalent LED bulbs.
After Dollar Tree, you can swing into Jewel and pick up a free 8 oz Noosa yoghurt. Clip on MyMixx today and redeem through 2/13.
That is… if you're having better MyMixx luck today than I am, lol.
While we're talking about stores, let's talk about some recent news from major chains. Whole Foods is shutting down 9 stores (including one in Evanston) and stepping back from its original growth target as it tries to get expenses under control in the face of six straight quarters of declining same-store sales.
ALDI, on the other hand, is expanding aggressively. They're opening 650 new stores across the country with a target of operating nearly 2000 stores by the end of 2018, and also just announced a $1.6 billion dollar investment to remodel and expand more than 1300 U.S. stores by 2020.
I'll just leave those two little tidbits here and let you draw your own conclusions. 🙂
What else is in the news today? Heads up: Sargento is recalling several retail products for potential Listeria contamination. See details here.
Let's get out of the store and go online, where Amazon is offering lightning and ongoing deals on several different gift cards today including Cold Stone, Build-a-Bear, Jiffy Lube, and more. Other gift card deals today include:
And of course we have some Amazon subscribe & save grocery & household deals…
And let's wind things up with magazines today, because that's about all the energy I have to type! Blame Mr. 9 for bringing this one home, and hope all of you are staying well — February really is the cruelest month, isn't it? ANYway, DiscountMags is running a multi-year magazine sale, where you save more this weekend when you commit to a longer subscription term. (And don't have to worry about finding a new deal for a while when it's time to renew…) Find magazine deals here on everything from Eating Well to Star.
---
Prices on Amazon often change quickly; price(s) current as of the time and date of this post. You can cancel subscribe & save or skip a shipment at any time. You get 5% off and free shipping with subscribe & save, or 15% off if you have five subscriptions on the same day/month. For more about coupons & subscribe & save, see the guide here.