Morning, all! How's your chilly Sunday progressing? I slept very poorly last night after foolishly drinking coffee in the evening, so am getting a late start on everything today — you'd think at this point in my life I'd know better.
I saw this calendar at the grocery store yesterday and it seemed appropriate for this morning. No one tell the Notorious BKL, because I don't think that Bad Kitty Lucy would approve… and she just might decide to engage in a little vicarious revenge on the cranky kitties' behalf…
---
Who's been waiting for a Sam's Club membership deal? How about a $25 gift card, a free pizza, and free cookies with your $45 membership — will that do? We're sticking with Costco over here, but this offer looks pretty darn good…
Who needs to restock with some brand-name K-Cups? Today only Best Buy is offering a 72 ct box of medium roast Nantucket Blend K-Cups for $19.99 (free in store pickup or free ship $35).
While Amazon is being slightly confusing with a "buy three items, save 25% off four lowest price items" P&G deal. So I guess, buy four items? Mix/match select P&G baby essentials, household, fabric care, or cleaning products, and the instant savings comes off on the checkout screen.
Let's move into the less confusing category of grocery & household subscribe & save deals…
If you or a family member is living with food allergies, I highly recommend attending this year's Gluten & Allergen Free Expo — this year it will be at the Schaumburg Convention Center, and Goldstar currently has discount tickets.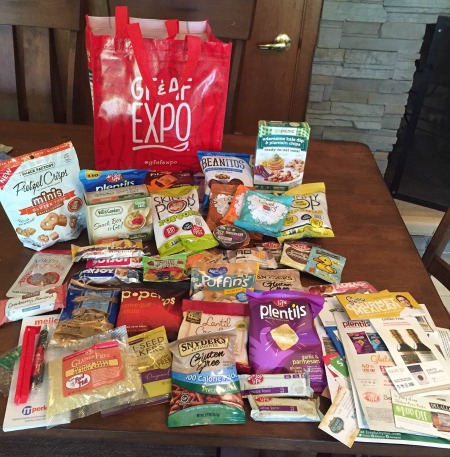 I went a couple of years ago, and above are some of the samples and coupons I walked away with — it's a great way to find out about and sample a nice variety of gluten free & allergen friendly products.
You can still savor the good things in life, no matter what kind of food allergy you may be stuck with. The Schaumburg Gluten Free and Allergen Friendly Expo widens your eyes to a whole new world of savory and safe foods with samples, classes, coupons and more. Over 100 brands will be exhibiting treats and discounts to make your grocery shopping easier, and educational panels will teach you a thing or two on how to live a gluten-free lifestyle. Your favorite brands, restaurants, authors and bloggers will be around for a meet and greet, as well as a chance to get some seriously helpful advice about your allergies. Walk out of the Schaumburg Convention Center with a complimentary reusable tote bag to lug all those goodies, too.
Not your cup of expo? Browse more discount event tickets here.

And we'll wrap things up this morning with some new printable coupons for your Sunday!
---
Prices on Amazon often change quickly; price(s) current as of the time and date of this post. You can cancel subscribe & save or skip a shipment at any time. You get 5% off and free shipping with subscribe & save, or 15% off if you have five subscriptions on the same day/month. For more about coupons & subscribe & save, see the guide here.