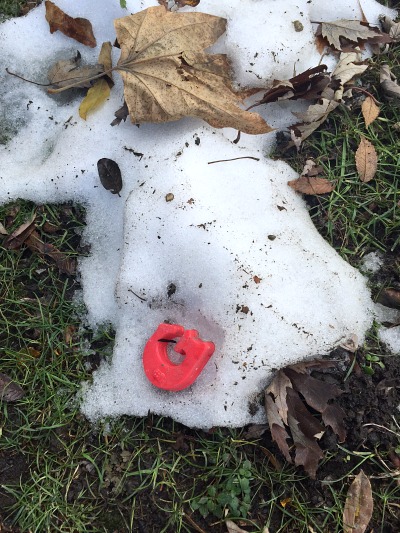 When the snow started melting in our back yard this weekend, this refrigerator letter "G" was revealed. I'm really not sure where it came from (it's been a long time since we've done refrigerator letters!), but think it's a metaphor for… something. Anyone want to take a stab at this one?
G, I hope you all have a wonderful Tuesday! 😉
---
As it cools back off again though, your thoughts might turn to… beanies. Don't these look cozy? Pick up the kids, run errands, or catch the Metra in style this winter — Pick up two bestselling knit beanies at Cents of Style for $20 shipped today only when you use code BESTWEEK2.
Want to go out and show off your new beanie? Also today only: $25 Restaurant.com gift certificates for just $4.00! To score your discount, just enter coupon code BEST at checkout.
Or… if nothing there appeals — or if you want to lead up to your night out with a spa day at King Spa & Sauna or foot massage at Healthy Foot Spa — code TREATYOURSELF gets you an additional 15% off most deals on LivingSocial through 12/28.
If you are heading out with the kids during break, how about discount tickets to LEGOLAND Discovery Center's Holiday Bricktacular! How fun does this look:
Step into a winter wonderland made of LEGO bricks as LEGOLAND Discovery Center once again transforms for its annual Holiday Bricktacular. See MINILAND's iconic Chicago landmarks covered in snow and alive with winter fun. Make a stop at Santa's Grotto to take a picture with a life-size LEGO Santa and snowman. Then learn how to build LEGO ornaments and add your special touch to the full-size LEGO Christmas tree. Head over to the Master Model Builder Academy and learn how to build a LEGO gift for your loved ones. Plus, all of your regular LEGOLAND favorites, like the exclusive The LEGO Movie 4D: A New Adventure, will also be available. Bursting with color, creativity and fun — not to mention over 2 million LEGO bricks — LEGOLAND Discovery Center is a great, active way to get the whole family in the holiday spirit.
Not your cup of LEGO? Browse more discount event tickets here.
Capture your outing with a cute 4×4 framed photo magnet at Walgreens. I'm not sure when this code ends, but right now you can use code 99CMAGNET to drop the price to just $.99! Most stores offer free in store pickup on this item so you can avoid shipping charges, too.
While we're talking drugstore deals: If you're visiting CVS this week, both feelgood and jane share that in addition to the free after ECB individual DiGiorno pizzas this week, they're also offering full size Jack's pizzas for $3.00 with $3.00 ECB back for a net cost of free! The Jack's is tagged through 12/31.
Note: I stopped by this morning, and this is part of the same deal — either DiGiorno or Jack's, not both.
Speaking of CVS … and of its competitors, I just saw this article on Coupons in the News: "Think ALDI is the Cheapest Place to Shop? Think Again." But if you actually read the results of the study they're talking about, ALDI actually is very cheap for food, but not as cheap for health & beauty items. Well. Yeah?
The way I think about it is that I can always get my health & beauty items cheap at CVS with minimal effort (or Walgreens or Target if you prefer to play their games instead), but it's more important to know where everyday basics (food) will be affordable than to get everything at one store. What do you guys think?
If you're getting that stockpile of drugstore deals organized in the new year, check out some great Target deals on storage and organization. Find a $5/$25 coupon in this week's ad, or get $5/$25 storage and organization items online with code STORAGE. You could, for instance, pick up five various $5.00 Sterilite storage totes for $20 after code and drop them to just $4.00 each, which is half off or better! (Shipping isn't currently available on these, so choose in store pickup.)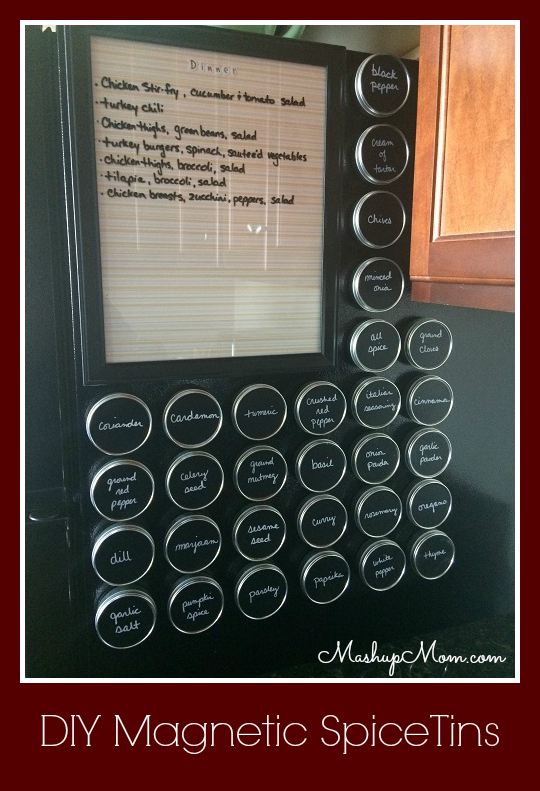 Start organizing the kitchen, too, with this DIY magnetic spice tins how-to. My spices are nowhere near this tidy — how about yours? But these magnetic spice tins are a great size for when you dry leftover fresh herbs in the microwave, too!
Stock your new storage totes — or your pantry — with a few useful grocery & household deals on Amazon subscribe & save this morning:
While you're over poking around the Amazon subscribe & save items: If you're an Amazon Prime member, also be sure to check out their new Prime-exclusive sampling program. Pick up a sample and get an equivalent Amazon credit to redeem on full-size items from the brand you've sampled after your item ships. That's pretty cool!
Let's wind up with today's best new printable coupon: $3.00/1 Huggies Snug & Dry diapers! We don't often see this good of a value, so print if you have a little one in diapers.
---
Prices on Amazon often change quickly; price(s) current as of the time and date of this post. You can cancel subscribe & save or skip a shipment at any time. You get 5% off and free shipping with subscribe & save, or 15% off if you have five subscriptions on the same day/month. For more about coupons & subscribe & save, see the guide here.