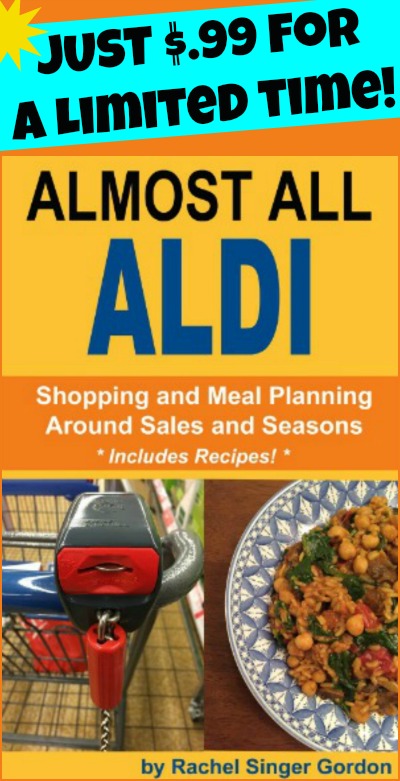 Last day for this sale: Grab your copy of Almost All ALDI before the price goes back up again. 🙂
---
Who here likes a 75% off sale? Welllll….. are you in luck today, because:
My eBook's on sale, my eBook's on sale…!
Question: What's even better than my handy eBook about shopping and meal planning at ALDI?
Answer: Well, I'd have to say that would be… a sale on my handy eBook about shopping and meal planning at ALDI!
Get your copy for just $.99 this week
For a limited time you can save a whopping 75% off the cover price of Almost All ALDI: Shopping and Meal Planning Around Sales and Seasons. Don't delay — pick yours up today for just $.99!
The reviews are in!
What are people saying about Almost All ALDI?
"I love all of the insights in to why they do things the way they do, and knowing that stuff definitely makes me want to shop there more! And who can argue with getting almost 40 frugal, easy, healthy recipes?!? Excellent and really useful all-around."

…

"Her guide, like other books I have read by her on couponing and online shopping, is very thorough and well written. She explains what shopping at Aldi is like (using a quarter to get a cart, etc.), and offers some tips and insights into how the company works. She regularly plans weekly dinners for a family of 4 from items mostly purchased at Aldi for around $60.00 a week (Chicago-area prices), which is very impressive."

…

"I've been a regular Aldi shopper for years so was surprised by how much I learned from this book. And her recipes are great, very doable. I'll now be looking at a much wider selection besides just my usual routine stock-up shopping."
Not convinced yet? Take a look…
What's inside Almost All ALDI?
I'm so glad you asked! Here's the lowdown:
Rachel Singer Gordon, blogger at MashupMom.com and author of The Complete Idiot's Guide to Couponing and Point, Click, and Save, is a semi-reformed couponer and frugal living expert who will help guide you through the ins and outs of shopping and meal planning around sales and seasons at America's favorite discount grocer.

Learn how to save time & money by shopping ALDI for most of your everyday grocery needs, and learn how to plan a week's worth of dinners at a time around sales so that you can more easily feed your family healthier home-cooked meals. Slash your spending and save your sanity — the ALDI way.
You can "look inside" Almost All ALDI over on Amazon to get a sneaky peek into what's in store for you, too. ?
Check it out!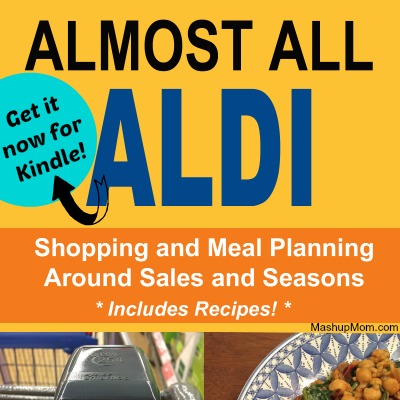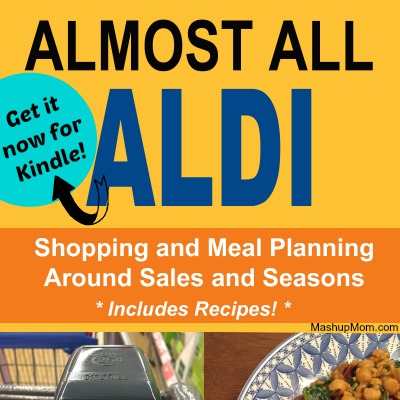 In Almost All ALDI, you'll find:
Info on how ALDI has changed — and what might be in store
Tips for saving, over and above ALDI's everyday low prices
Almost 40 family-friendly dinner recipes
… and more!
Save your time, sanity, and dollars with these insider tips and tricks. But hurry! The $.99 price is for a limited time only, so get in on this 75% off sale today.
Psst — No Kindle?
No Kindle? No problem! Here's how to read Kindle books without a Kindle.