This is a sponsored post written by me on behalf of the Chicago Museum of Science and Industry.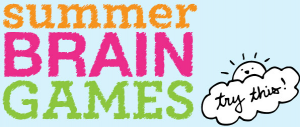 We all know that kids can tend to lose one to three months of learning over the summer: AKA, the dreaded "summer brain drain." To combat this, The Chicago Museum of Science and Industry is again offering its popular, fun, and free online "Summer Brain Games" program!
When you sign up for Summer Brain Games, you can download a free kit — AND, you will receive via email one free pass to visit the Museum of Science and Industry this summer. (If you haven't been, take this chance to check it out — it is awesome for kids!) Then, each week's online kit will feature a new experiment or science challenge for kids to perform at home using common household materials, with a little adult help and/or supervision. Each features instructions, tips, and advice on taking the challenge further through additional activities, as well as a little list of science-related careers related to that week's activity.
Our activities
To help prevent brain drain in our family, we've tried out two of these activities so far, the first being a hydroponic garden. Here, we saved one of the little "maple trees" growing all over our lawn, since Mr. 6 is always very sorry for them. (And also pretty sure we will get syrup one day, despite all evidence to the contrary!) The coolest thing about these science activities is that we had the materials already in our house, and several of them let you upcycle materials that would otherwise just go in the recycle bin — this hydroponic garden, for instance, makes use of an old yogurt cup.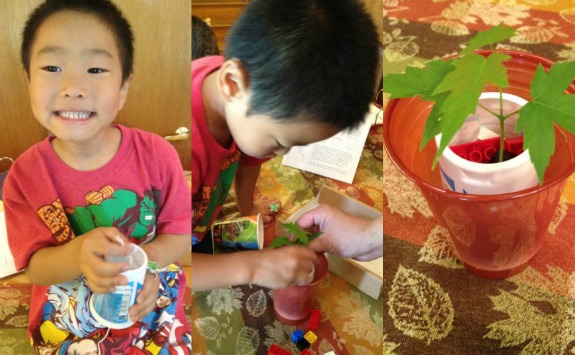 Basically, Mr. 6, with some assistance from MashupDad here threaded a cotton wick through the bottom of an old clean yogurt container. This then sits inside a larger cup and gradually draws up water through the wick, while the LEGOs serve as our "growing medium" and help stabilize the little plant. Mr. 6 is pretty intrigued at the idea of a plant growing in just water, without dirt.
The other nice thing about these projects is that, although they are all science-based, there is a huge variety to appeal to different interests and spark different ideas. Our next "pinhole viewer" experiment let us view the world upside down through images reflected on the paper in the middle of our crafty shoebox viewer here. (The original instructions called for wax paper — having none, we tried parchment, and it worked!)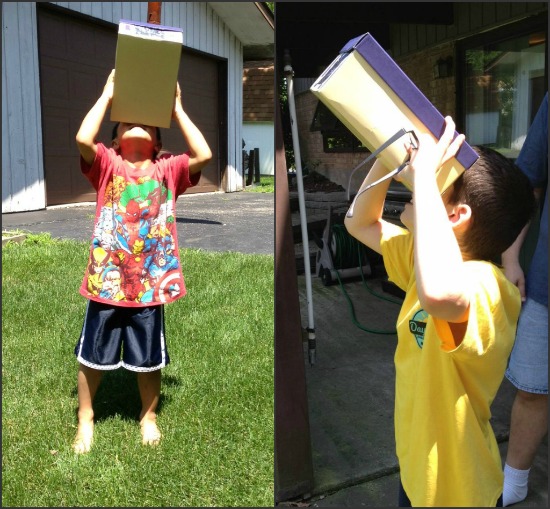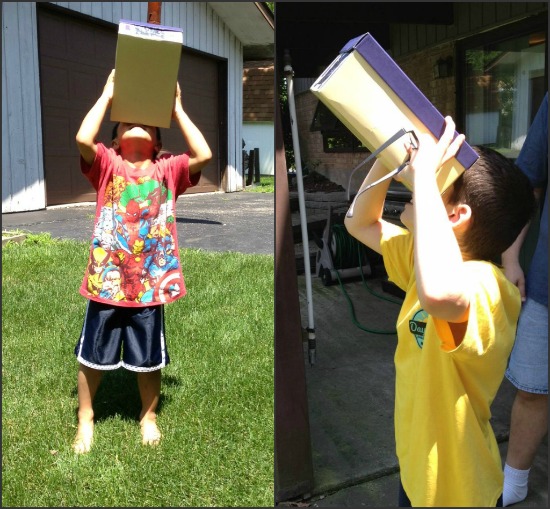 Both boys thought this one was pretty darn cool, and spent a while walking around the yard looking at different things. You'll be best off here with a very bright day and viewing items with a lot of contrast. Mr. 10 gets that this works kind of like your eyes do, while Mr. 6 just thinks it is "neat."
It's difficult to take a photo through the little "window" in our box, but you can see our upside-down trees!
On to the giveaway
Wait, what can you win?
One lucky Mashup Mom reader will win a family four pack of tickets to the Chicago Museum of Science and Industry, good through the end of 2013.
How do you enter?
Comment here and let me know your favorite summer activity to do with kids!
One entry per comment; one comment per person; each comment is an entry. Enter through 11:59 PM Central on 7/4/13. U.S. residents only. If you are reading this through email or Facebook, please click on the title of this post (up at the top where it says "Giveaway and Review — Museum…") to go back to the blog. Scroll down to the bottom of the post and you will see a box to enter your comment; just comment there to enter.
Email and Facebook entries will not be counted. If you are reading the Mashup Mom homepage on the web, look at the bottom of this post where it says "___ comments." Click on that to get the box to enter your own comment.
The fine print
Prizing and information for this giveaway has been provided by The Museum of Science & Industry. This is a sponsored post; however, all opinions here are my own. The winner will be chosen on or around 7/5/13 through random number generation at random.org and will have 48 hours to respond to notification email; Mashup Mom reserves the right to choose a runner up if no response is received in that timeframe.
No purchase necessary. The number of eligible entries receives determines the odds of winning. Void where prohibited. Please allow 8 weeks for delivery of your prize.
About Summer Brain Games
The Chicago Museum of Science and Industry is offering a fun and free online science program called Summer Brain Games. The eight-week program lasts from June 17, 2013-August 12, 2013 and features a weekly experiment or science challenge that can easily be performed at home with kids of all ages.
Visit msichicago.org/summerbrain now to register for Summer Brain Games and download your free Summer Brain Games kit. As an added bonus, registering automatically gets you a pass to come to the Museum for free this summer.
This is a sponsored post written by me on behalf of the Chicago Museum of Science and Industry.