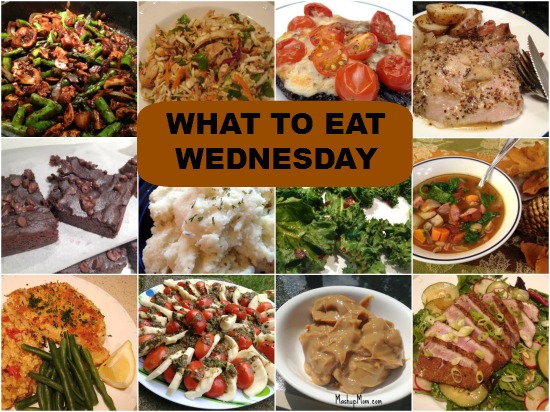 Welcome back to What To Eat Wednesday, um, Thursday that is, as usual, for 1/9/14. Each week, Trish and I feature a couple of recipe ideas around current grocery store sales, and then  all of you are invited to share your own ideas in comments here. Most grocery sales in the Chicago area started yesterday 1/8 or today 1/9.
Note: We're just listing which stores have some of the major ingredients for these recipes on sale, not saying to run around to every store to pick up an ingredient here, an ingredient there, because that's not frugal.

Combine what's on sale with what's already in your pantry, to feed your family frugally and deliciously.
What's up this week?
Well, pork is on sale everywhere, so let's stay thematic, shall we?
First up, are two pork recipes I made already this week —

I picked up a combo pack of pork sirloin at the one-day meat salt at Ultra on Wednesday: Two roasts, 4 chops, $1.58/lb. I also had an expired $1.00/1 fresh pork coupon, so all of that cost me $7.88. We had the little pork roast Wed. night, cooked up as Rosemary Pork Roast and Red Potatoes.  Sorry for the lack of precision in measurements — I really shook everything on without measuring the spices. Be generous with the rosemary!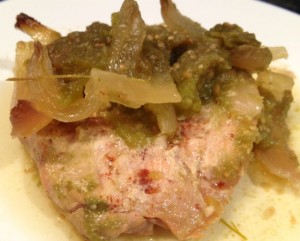 And just coming out of the crock pot tonight: Slow Cooker Pork Chops, Carnitas Style. The other little pork roast is wrapped up in the freezer for another day, since pork two nights in a row is already pushing it. 😉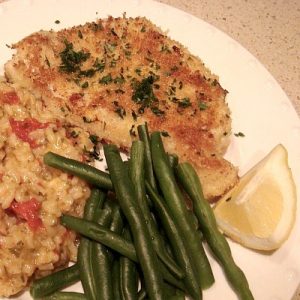 And then for variety's sake, here are Pork Chops Milanese from The Frugal Homemade. Yes, these are all recipes with The Other White Meat, but look how different from each other they can be! What's your favorite pork chops or pork roast recipe?
So where are these things on sale?
Eggs
Angelo Caputo's: Dutch Farms large eggs, $1.29.
Mariano's: Dozen Eggland's Best eggs, $2.00. Use $.35/1 in the 11/3 SS1. So $1.65 after coupon, or just $1.30 on Double Daze.
Tony's: Dozen large eggs, $.99 limit 2.
Ultra Foods: Dozen Dutch Farms large eggs, $1.18 limit 2.
Valli Produce: Dozen Dutch Farms large eggs, $1.29.
Onions
Pete's Market: 3 lb yellow onions, $.99.
Ultra Foods: 3lb yellow onions, $1.50.
Panko
Valli Produce: Roland panko bread crumbs, $1.79.
Pork chops and roast
Jewel: Boneless pork loin chops, BOGO. Boneless pork loin roast, $2.47/lb.
Meijer: Boneless center cut pork loin chops family pack, $2.99/lb.
Pete's Market: Center cut pork chops family pack, $1.99/lb. First cut pork chops, $1.49/lb. Assorted pork chops, $1.79/lb.
Peapod (through 1/10): Boneless pork tenderloin roast, $2.99/lb.
Schnucks: Pick any 3 or more meat or seafood items with an orange dot and get them for $5 each. Included are: Fresh assorted pork chops, boneless butterfly chops.
Tony's: Boneless pork chops family pack, $1.99/lb.
Ultra Foods: Farmland boneless loin pork chops, $2.99/lb. Farmland boneless pork loin, $2.79/lb.
Valli Produce: Boneless butterfly center cut pork chops family pack, $1.99/lb. Thin sliced center cut pork chops, $2.49/lb. Boneless center cut pork roast, $2.49/lb.
Potatoes
Angelo Caputo's: 10 lb bag Idaho potatoes, $2.29.
Jewel: 10 lb russet potatoes, $3.49.
Meijer: 5 lb russet potatoes, $2.00.
Pete's Market: USA 5 lb red potatoes, $1.50.
Tony's: 8 lb bag Russet potatoes, $1.49.
Ultra Foods: 5lb Idaho potatoes, $2.50.
Salsa verde
$.55/2 Herdez salsas. The cheapest you're going to find the little cans, aside from Dominick's 🙁 may be Walmart — it should run under $1.00 a can there, so use the coupon for an even better deal.
Next up: Share your own recipes!
After you check out this week's recipes, be sure to check out the store sales this week. Most grocery matchups are now up, so choose a store from the top menu and browse their current deals. Then, please share: What are you going to be making around what's on sale this week? Let's help each other out with recipe ideas — thanks!