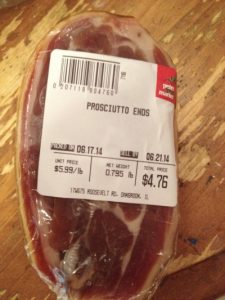 We haven't done a What to Eat Thursday in a while, since we've been kind of in an ad slump lately without a lot of common themes among weekly food sales. So today, instead of focusing on that, let's talk about leaving wiggle room in your menu planning for unexpected sales and clearance. I do try to rough out a meal plan for the week around freezer finds, grocery sales, and pantry staples — but am also always on the lookout for meat clearance deals and other serendipitous finds to mix things up.
This week, both Trish and I ran across unexpected clearance, and we both scratched up meals around our finds. On separate trips to the same Target (lol!) we each picked up 2 lb clearance packs of ground beef for just over $4.00, and I already told you about my "prosciutto ends" find at Pete's Market. So, what did we end up making?
Trish cooked up a family favorite, Cuban Picadillo, using just this clearance pack of ground beef rather than mixing it with ground pork this time. Since she had all of the other ingredients already on hand from previous sales, she just added one green bell pepper to her Target shopping trip after finding the clearance meat and was able to go home and throw together an entire meal.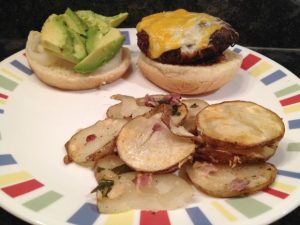 Over in the Mashup Mom household, someone had a hankering for hamburgers on the grill, which were simple enough to throw together with that clearance ground beef. As long as the grill was going: Parmesan Prosciutto Potato Packets on the side, using just a bit of the prosciutto plus the end of a bag of potatoes and some fresh basil from the garden.
It's useful to build some flexibility into your meal planning for unexpected surprises, and to have a well-stocked pantry full of items you picked up on sale that allows you to cook up a variety of recipes when you fortuitously find a main missing ingredient on clearance. Find clearance ground beef? It could become picadillo or hamburgers or chili or spaghetti sauce or tacos or meatballs or meatloaf or any of 10,000 other things, depending on your family's tastes and what you have on hand.
What did you fortuitously find on clearance or sale this week?
Please share what you scratched up in comments here, because variety is the spice of What To Eat Thursday!