As part of a sponsored post for Collective Bias®, I picked up an affordable cell phone and wireless plan for our brand new middle-schooler this year. All opinions in this post are my own.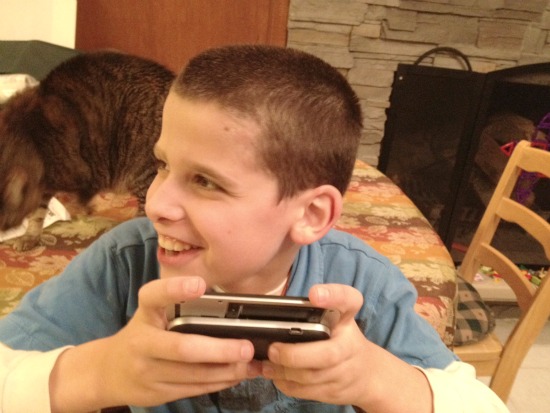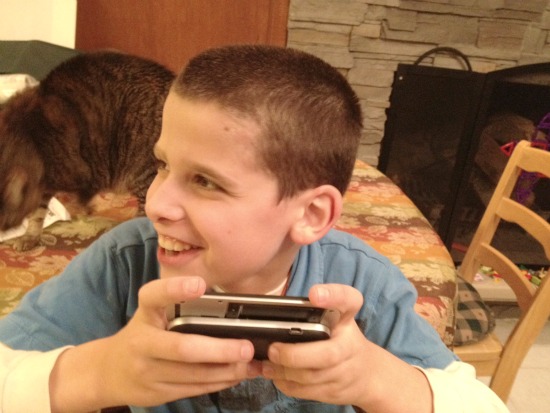 No, he's not texting the cat…!
One month ago, I picked up an Alcatel 606A mobile phone and cheap wireless plan from Walmart Family Mobile for our Junior High Guy. So, how's that panning out?
Our original goal here was to find a cheap wireless plan and affordable phone from #FamilyMobileSaves that would work for our family's needs, and help ease our new-to-junior-high guy into responsible phone ownership. I told you last month about the useful online account management features, where you can log in as the primary account holder and easily set controls for each wireless user, and I'm still really pleased with the ease of use there.
Check out the European dates — that's October 8! That confused Junior High Guy, lol
But, I think the true savings with Walmart FamilyMobile will actually be if and when we switch to a family plan when we are out of contract ourselves. You see more real $ in your pocket as you add multiple lines and get the grown-ups off the higher rate plans elsewhere. Junior High Guy is on the $29.88 unlimited talk and text plan — but, he's in junior high. We don't let him unlimited talk and text. 🙂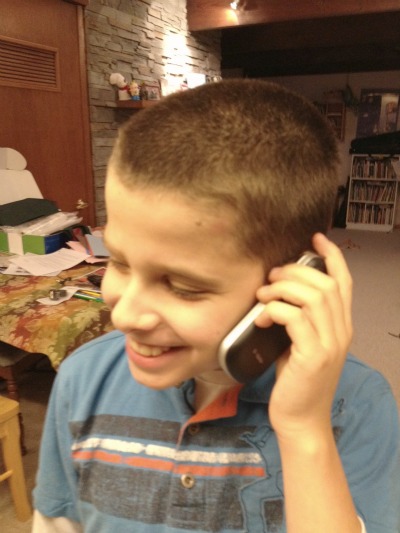 It's useful, though, for him to have his own mobile phone for texting, for emergencies, and so he doesn't tie up the house line talking to friends while playing Minecraft (don't ask!). Junior High Guy, for example, has missed the bus home a couple of times on days when he has an odd schedule and has to pick up his instrument from the orchestra room before heading out to the bus line, so now he can go outside and call for a ride home.
And, the basic Alcatel 606A is helping us ease into the responsibility of having his own phone. It doesn't play Angry Birds or show YouTube videos or any of the time wasters that our phones do, so he's less tempted to use it as a toy, and is learning that it's a tool. It'd be hard to find a lower priced unlimited plan, so as of now, this is working for our family.
What do you guys think about the idea of junior high kids having phones? What's the right age?