I attended a blogger event held by ALDI. All opinions here, however, are my own.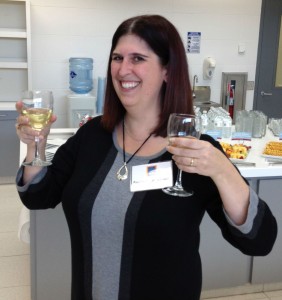 I'm at an ALDI blogger event through tomorrow — and no, I'm not really two-fisting wine, although some days I am sorely tempted. This was actually a taste test! We had a lot of fun in the ALDI test kitchen tonight doing blind taste tests of various ALDI brands vs. comparable national brands.
ALDI wine, a or b? The big reveal… tomorrow night when I get back. 😉 Also cheese, crackers, and more!