Welcome back to What To Eat Wednesday! Each week, Trish and I will feature a couple of recipe ideas around current grocery store sales, and then I'd like to invite all of you to share your own ideas in comments here. Most grocery sales started today 9/25; Ultra and Meijer start tomorrow 9/26.
Note: What to Eat Wednesday just list which stores have some of the major ingredients for these recipes on sale. Don't run around to every store to pick up an ingredient here, an ingredient there, because that's not frugal.

What To Eat Wednesday just aims to spark ideas of what to make with stuff that happens to be on sale this week — you can pick up some of these sale items and supplement with what's already in your pantry. For instance, maybe you already have a whole chicken in the freezer — so grab some onions and other ingredients and make yourself a chicken, then soup. Maybe you already have the veggies for the stock, and just need to buy a chicken. Maybe you picked up Essential Everyday canned beans on the cheap last week, so can pick up a chicken and use those to make your soup. Work around what's on sale, combined with what you already have handy.
This week's recipes feed off of each other. Make yourself an herb roasted chicken, use the bones to make stock, and use some of the meat to make soup. You can get multiple meals out of one bird!
Herb Roasted Chicken, Slow Cooker Chicken Stock, and Salsa Verde Soup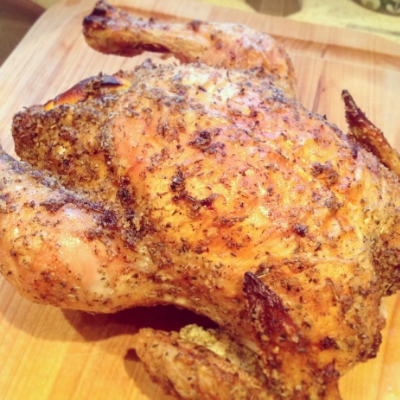 Start with your basic herb roasted chicken recipe, over at Frugal Homemade.
Use the bones for this slow cooker chicken stock, directions over at Sunday Scratchups.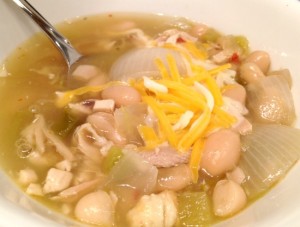 Which becomes the basis for this easy rotisserie chicken salsa verde soup, also from Sunday Scratchups.
Ingredients
Whole chickens are on sale a few places: Caputo's has Perdue Oven Stuffer whole chicken, $1.39/lb., Jewel has whole fryers $.99/lb, Tony's has whole roasting chicken, $1.69/lb, and Miller Amish roasting chicken, $1.99/lb.
You'll need onions for all three recipes. 3lb yellow onions are $.98 at Butera, $.99 at Pete's Market.
For your stock: Celery is $.49 at ALDI. 1lb carrots are 3/$1.00 at Tony's. Meijer: Earthbound Farm organic baby cut carrots are $1.25. Sign up for the newsletter to get a $.75/1 or $1.00/2 coupon delivered to your email inbox weekly, or use the $1.00/1 from the older Jewel big book of savings.
For your soup: Red Gold salsa is $1.50 at Jewel, but not sure if they have verde. At Meijer, Basha Salsa is 50% off. At Peapod,New man's Own salsa, $2.50. Use $.50/1 in the 9/15 RP to get it for $1.50 after double.
Next up: Share your own recipes!
Check out the store sales this week — most grocery matchups are now up, so choose a store from the top menu and browse their current deals. Then, share: What are you making around what's on sale this week? Let's help each other out with recipe ideas — thanks!