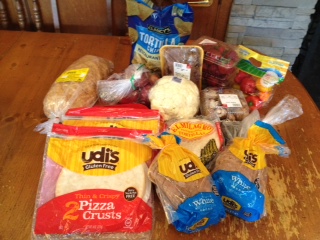 Thought I'd go use some more Udi's coupons a friend kindly printed for me, so popped over to ALDI and Pete's Market this morning. Spent $32.32 on the above and will get my whopping $.25 back from Checkout 51 for apples.

At Pete's:
4 Udi's pizza crust, $14.36. Used four $1.50/1 printables.
2 Udi's bread, $7.18. Used two $1.50/1 printables.
Mini sweet peppers, $1.68. (Hmm, the sign said $1.48, but OK.)
Cauliflower… um, I just noticed that this rang up at $.02. lol — that's not right! It was supposed to be $.49/lb.
Crimini mushrooms, $2.56.
Red apples, $1.64. Will get $.25 back from Checkout 51.
Sourdough bread, $3.29.
"Meat ends" from the deli, $3.14.
Got $.05 off for bringing my own bags and paid $25.41.
At ALDI:
Corn tortillas, $.35.
Flour tortillas, $.89.
Tortilla chips, $1.19.
2 pack strawberries, $2.38.
2 avocados, $1.98.
Paid $6.91. That's $32.32 for the lot, minus $.25 back for apples = net $32.07. (About $12.50 of that was Udi's, but now he's stocked up!)