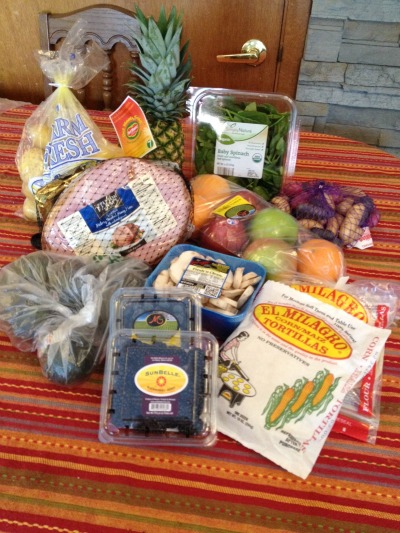 I took the kids over to Goodwill this morning for a Christmas break expedition — no picture of that haul, since they ran off in a corner with all the books and the clothes are already in the laundry, lol. But some random nice guy gave me his 30% off (from donating) coupon in the store, so we ended up with four boys' shirts, 11 kids' books, a cooling rack, and five random dishes for about $19.
Then we had a nice lunch out with MashupDad and stopped at ALDI on the way home. At the Villa Park ALDI on Roosevelt, all hams are $3.00 off! I was really only planning on picking up produce and tortillas, but this nice spiral sliced ham was almost 7 lbs, and ran me just $7.30.
ALDI shopping
Pineapple, $.99.
Flour tortillas, $.89.
Corn tortillas, $.35.
Blackberries, $.79.
Blueberries, $1.49.
Spiral sliced ham, $7.30.
6 avocados, $2.94.
Yukon Gold potatoes, $2.49.
Mixed fruit, $2.99.
Organic baby spinach, $2.49.
Sliced mushrooms, $1.49.
Mini fingerling potatoes, $1.49.
Paid $26.15. Darn ham. 😉