Update — CW asked that I pull the code from this post, so it's gone. The step-by-step instructions remain for those of you who wish to use future codes or the $5/$25 on the Wags site.
OK! This one will only work for those of you who have Walgreens web pickup available in your area. In Chicagoland, many stores are participating. So here's what you need to know, and then I'll walk you through the process below. You'll want to read this, because the above order came to net $1.59 after coupons, web pickup code, and Register Rewards.
What you need to know
When you do a web pickup order, your order will be waiting inside at the photo counter.
When you pick up your order, you CAN use manufacturer coupons, and you CAN receive Register Rewards.
You have to use your credit card online to reserve your order, but your actual charge will be your final amount after coupons in store.
The web pickup code comes off the amount BEFORE manufacturer coupons!
Web pickup codes will not affect Register Rewards where you have to buy a specific item or number of items. They will affect Register Rewards where you have to hit a certain dollar amount.
Web pickup is currently only available in select areas of the country.
The process
Head over to Walgreens.com and look near the bottom right for a web pickup "can't wait?" as shown above. Click that.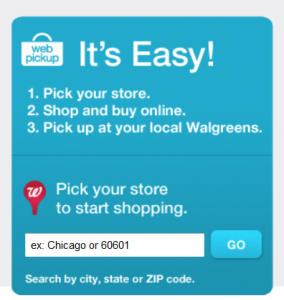 This will pop up a screen asking you to select your local store. Enter your ZIP code to see if web pickup is available at any stores near you.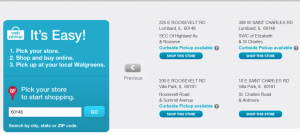 If web pickup is available in  your area, it will show you a list of stores near you to choose from. Click the blue "shop this store" button under the one where you wish to pick your order up.
Once you select a store, you will see on the top of the screen that you're shopping that particular store.
Now when you search, you are searching for products available in your selected store. If they are in stock, they will show up. Here, I searched for "Oscar Mayer Deli Fresh." Simply add products to your cart until you're ready to check out — try to hit just over $30.00. When you're done shopping, view your cart. Look on the bottom left for a box to enter your code. Enter your code, then hit apply.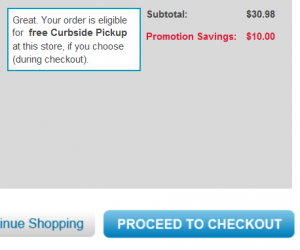 This will show you over on the right under your total that the code has been applied. Then click "Proceed to checkout," and checkout normally.
You'll receive an email within a few minute confirming your order. However, you'll want to wait for your second email, telling you that your web pickup order is ready for pickup. (I placed my order just before 8AM this morning, and got the ready for pickup email just before 9AM.)
Head over to the store you selected, where your web pickup order will be waiting for you at the photo counter. You do not want to do curbside pickup, since you can't use coupons or get Register Rewards unless you go in the store. And don't worry — my lunch meat and cheese were in a cooler and she had to go get the second bag; they weren't sitting out unrefrigerated!
Hand over whatever coupons you are using on this order. They will scan them there, and if you earned Register Rewards, they will print out after you pay. Note that it did put it on the credit card I used online, even though I tried to swipe a different one in store.
What I bought
Yes, the rubber bands were incredibly overpriced, but that doesn't matter since they were essentially free, lol — Mr. 9 needs them for Pokemon cards or something.
5 Kraft singles, $12.50. Used five $1.00/1 printables.
5 Oscar Mayer Deli Fresh lunch meat, $12.50. Used five $1.00/1 printables.
Rubber bands, $3.99.
Popcorn Indiana, $1.99.
Used a code for $10/$30 web pickup. Paid $11.59 and got back $10.00 in Register Rewards for a net cost of… $1.59!