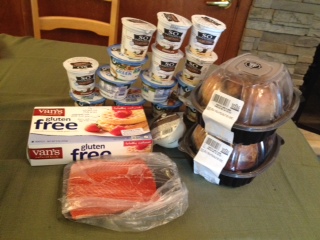 Well, actually it was the other way around — I went to Whole Foods since I was already over in Glen Ellyn so halfway there anyway, and wanted the $5 rotisserie chicken today. Then I was driving back past Walmart on the way home, and figured I should try Savings Catcher at least once! Spent too much at WF, but it's all good stuff; the sockeye salmon is a VERY occasional splurge, and the mozzarella is destined for Caprese salad tomorrow to help use up more of our insane tomato production over here. 🙂 The waffles were a back-to-school request from Junior High Guy, and one chicken will be dinner maybe tomorrow, the other will become soup.
2 rotisserie chickens, $10.00. (They're $5 today only!)
Sockeye salmon, $10.06.
Mozzarella, $3.99.
Van's gluten free waffles, $2.50.
8 Brown Cow plain Greek yogurt, $6.40. (I'm going to TRY the non-sugar yogurt thing and add honey and fruit…) Used four $1.00/2 printables.
6 So Delicious non-dairy yogurt, $11.94. Used six $1.00/1 coupons from the 6/15 SS (not in Tribune) and two $1.00/3 Whole Foods coupons from the current Whole Deal. Got $1.00 back from Ibotta.
Paid $33.68. Got back $1.00 from Ibotta for a net cost of $32.68.