Stopped by Ultra today, and managed to leave my Earthbound Farm coupon on my printer. Oops! Just picked up a few things; thinking pork roast and red potatoes for dinner tonight maybe…
16 pack Go-Gurt, $2.98. Used $1.00/1 printable (no longer available).
5 lb red potatoes, $1.98.
4 Quaker Medley oatmeal, $3.52 after instant savings. Used two exp. $1.00/2 in the 10/27 RP.
2 Tropicana OJ, $4.56 after instant savings. Used two $1.00/1 printables.
Earthbound Farm organic baby spinach, $2.99.
Pork sirloin combo pack, $8.88 (part of the one day Lombard meat sale). Used exp. $1.00/1 fresh pork printable.
Kettle chips, $1.25 on clearance.
Got $.10 off for bringing my own bags and used a $2.00 Catalina. Paid $18.52.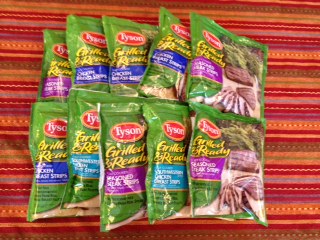 Then I popped down the road to Jewel, picked up 10 Tyson grilled & ready strips for $20.00, and used 10 $.55/1 coupons from the 1/5 SS1. AtkinsDad likes to bring these for lunch, so $1.45 each seemed decent.
I'll do a Pete's/ALDI trip later for produce — maybe today if Mr. 6 is in a good mood when he gets off the school bus, lol. Yeah, that's a lot of stores, but they're all close together and I'm DARN STIR CRAZY. (Thanks, Polar Vortex!)