Since I've been out of town for a week, we were pretty much out of produce. So I stopped by Ultra and ALDI today to restock.
ALDI
Milk, $1.88.
Cauliflower, $1.49.
2lbs sweet onions, $.99.
3lbs clementines, $3.29.
about 1.6 lbs stew meat on half price clearance, $3.54.
Edamame bites, grr, were marked $.99 clearance and I just now saw rang up $1.99. Oh well.
Red bell pepper, $.49.
Mushrooms, $.99.
Strawberries, $1.49.
Turano French rolls, $2.99.
El Milagro fajita tortillas, $1.39.
2 Italian bagged salads, $1.98.
Paid $22.90.
Ultra Foods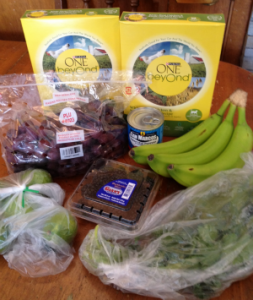 Two Purina ONE BeyOnd cat food, FREE with that expired coupon from a while back. (They were fully restocked.)
Chipotle peppers in adobo sauce, $1.59.
5 limes, $1.00.
Cilantro, $.79.
Grapes, $3.08.
Blackberries, $1.50.
Bananas, $.74.
Got $.05 off for bringing my own bag. Paid $9.22. So for the day, $32.12.