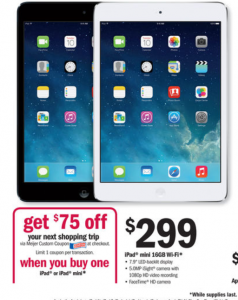 A couple of you were looking for iPad mini deals. Here are two in-store deals for you:
At Meijer starting tomorrow 12/15, get $75 OYNO when you buy one iPad or iPad mini. iPad mini 16GB, $299, so net $224 after Catalina. While supplies last no rain checks. See ad here.
At Radio Shack, iPad mini, $299.99 with $100 gift card. See details here. Net $199.99 after gift card.