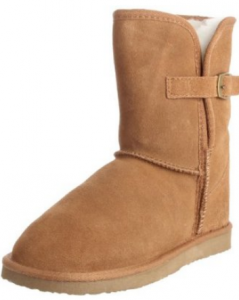 Here's an Ukala boots update!
Last night I posted that this Ukala Women's Carrie Ankle Boot
(Chestnut color only) is down to $16.51 and eligible for Prime or super saver shipping! Note these have very mixed reviews — people either seem to love them or hate them, lol. 
Sarah noticed that the Ukala Women's Sydney Mini Ankle Boot
(SAND color only) is also on sale, down to just $14.90. Charcoal  is just $19.63!
But even better, Sarah also noticed:
Straight from Sarah: "A couple of FYIs about these boots:  According to Amazon's website, they are eligible for free returns.  As I understand it after reading the site, this means that the boots can be returned for free as long as they are still in new condition.  So, given that the reviews are definitely pretty divided on these boots, it appears that there is no risk due to the "free returns" to ordering them and trying them.  Also, the sand color mini Ukala boots are just $14.90 on Amazon's site, and are also eligible for free returns.  The charcoal mini Ukalas are $19.63 on Amazon's site.  Also, if you have never signed up for Amazon's shoes e-mails, if you sign up before placing your order, Amazon will send you a promotion code for 20% off.  I just did that and was able to get 20% off on these boots, lowering the price for the $16.51 price for the chestnut Carrie boots to approximately $13 and the $20.44 price for the black Carrie boots to approximately $16.  Getting two pair of real suede boots with wool lining for approximately $30 seems to to be an unbelievable deal!"
Amazon prices can sometimes change quickly.
Posts on Mashup Mom may contain affiliate links. Please see the disclosure and disclaimer statement.