Stopped by Jewel today because I wanted to pick up the new Big Book O' Savings — and also for the cheap corn and stuff. Walked out with:
10 ears of corn, $1.00.
Essential Everyday water chestnuts, $.67.
Essential Everyday half & half, $1.99. Used $1.00/2 EE products from the 8/25 RP.
Two Hormel pork tenderloin, BOGO at $7.19. (These were $5.99/lb, so about $3.00/lb after BOGO. I'm going to cook them up with some potatoes with rosemary n' stuff tonight and it'll be a couple nights of dinner, yum.)
Guacamole, $3.56.
Paid $13.66.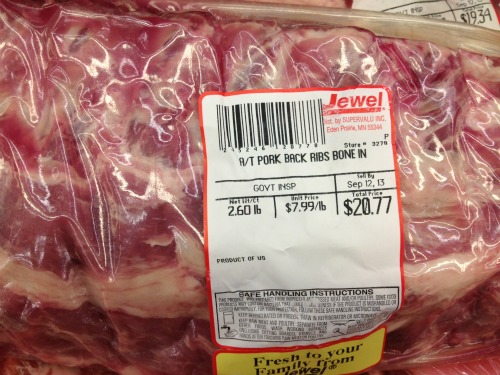 The buy one get two free ribs are priced at $7.99/lb — so work out to about $2.67/lb if you find three packs the same size.