I can't sleep, so let's talk bikes. Over at Sears they have this doorbuster thing going on: Get a Disney 10″ Bike (Cars or Princess) for $24.99 with free in-store pickup.
If you're up right now, Amazon has a lightning deal going on Schwinn 12″ steerable bikes
for $49.99.
And Walmart has 10″ Huffy Mickey or Minnie bikes for $25.00. Free in-store pickup or ships free with qualifying $45 purchase.
Walmart also has 12″ Huffy bikes in pink or blue for $29.00.
Check out the Sears Thanksgiving Doorbusters now through 3PM Central on Thanksgiving — Thanksgiving and Black Friday specials start at 8PM on Thursday. Check out this 4GB Kbox Kinect Bundle for $219.99, or $80 off.
Or go big with this Kenmore fridge for $1299.99 — it's so shiny! But wait there's more…
$19.99 winter jackets.
$130 off a 32″ LED HDTV.
Members get an extra 5% back with Sears card.
Use code BLACKFRIDAY for $10 off $40 clothing, accessories, intimates, sleepwear, fragrance, cosmetics sold by Sears.
Free ship at $49.
Also check out the overstock link at the bottom of their page for a whole bunch of random deals.
This is a Black Friday price! Right now at Sears, get the 60″ Sharp Aquos LC60E69U 1080p 120Hz LCD HDTV $688 — FREE SHIPPING or free in-store pickup. Note that you will NOT see the $688 price until the checkout screen — it does not show on the first cart screen, but at checkout where it is asking for delivery info.
(Thanks, SlickDeals)
Here's one from VB: "So I am hoping that Santa brings me a new digital camera and found an awesome deal and wanted to share. Sears has a $1199 Canon T3 on sale for $599.98! So anyone that is looking at black Friday deals for this type of camera may be better off buying now!" Canon EOS Rebel T3 SLR Digital Camera w/ 1855mm 75300mm Instant Rebate Bundle
— $599.98. Shipping adds just $6.25. NICE deal if you are in the market for a nice camera.
I've teamed up with a bunch of other bloggers to bring you the best of the Black Friday 2012 advertised deals from various stores. Here are the Sears Black Friday ad highlights, courtesy of Kosher on a Budget.
Black Friday 2012 Sears ad highlights
Sears will stay open for 26 hours straight, from 8 p.m. on Thanksgiving Day until 10 p.m. on Black Friday. Sears will have two waves of doorbusters – the first at 8 p.m. on Thanksgiving Day, and the second at 4 a.m. on Friday. Also in the ad is a coupon good for $10 Off Any $40 Purchase of Clothing, Intimates, Sleepwear, Accessories, Fragrance and Cosmetics, so you will want to clip that and take it with you.
Thursday 8 PM Doorbusters, Prices Good until 1 a.m.
Appliances & Electronics
32″ HDTV – $97 (the brand isn't stated in the ad), save $150
Proscan DVD Player – $9.99, save $20
Kenmore 27-cu ft. refrigerator with full-width pantry drawer – $1299.99, save $1000
Samsung 25.5 cu. ft. Side-by-Side Refrigerator – $1,199.99, save $600
Kenmore 1.7 cu. ft. Over the Range Microwave Oven – $199.99, save $200
Kenmore 30″ Freestanding Gas Range in Stainless Steel -$699.99, save $300
Kenmore 30″ Freestanding Electric Range – $799.99, save $500
Clothing
U.S. Polo Assn Men's Full-Zip Fleece Jackets – $19.99, Reg. $50
Structure Clothing for Men – 60% off
Covington Heavyweight Knit Crew sweaters for men – $9.99, Reg. $38
Outdoor Life thermal for men – $9.99, Reg. $30
Outdoor Life flannel for men – $11.99, Reg. $40
Covington Crewneck sweater for men – $11.99, Reg. $40
Bulova Watches (Select) – $99.00, Reg. $225 – $250
Boots for Kids & Women – 50% off
Select Handbags – Save 60% ($11.20 – $43.20 after sale)
Dearform, Isotoner, Bongo and Joe Boxer Slippers – Save 60%
All Joe Boxer and Covington Mix & Match Sleepwear – $7.99
Bali, Vanity Fair, Maidenform, Hanes, Warner's, and Lily of France Bras and Panties – 50% off
Housewares & Small Kitchen Appliances
Cannon Bleach Friendly Bath Towels – $5.49, Reg. $15.99
Cannon 300-Thread Count Wrinkle-free Sheet Set – $34.99, Reg. $74.99
Keurig Elite Single Serve Coffeemaker 48-oz. & $25 Sears Award Card -$119.99
Keurig Special Edition Single-Serve Brewer & $30 Sears Award Card – $149.99
Kenmore Ultra Fast Digital 2-lb. Breadmaker – $34.99, Reg. $59.99
American Tourister 7-pc. Set in red, black or blue – $87.99, Reg. $299.99
Exercise Equipment
NordicTrack C 900 Treadmill – $899.99, Save $600
NordicTrack A.C.T. Elliptical – $799.99, Save $500
Bladez SXPro Exercise Bike – $399.99, Save $400
Sole E35 Elliptical – $1,199.99, Save $800
Friday 4 AM Doorbusters (Prices Valid until Friday at 1 PM)
Home Appliances
Kenmore Elite 4.7 cu. ft. High-Efficiency Top Load Washer – Metallic – $649.99, save $760
Kenmore Elite 7.3 cu. ft. Electric Dryer – Metallic – $649.99, save $760
Kenmore 7.5 cu. ft. Electric Dryer – $499.99
Kenmore Elite 30″ Freestanding Electric Range – Stainless Steel -$1,099.99, Reg. $1599.99
Kenmore Elite 1.7 cu ft Over the Range Microwave – $419.99, Reg. $839.99
Kenmore Elite 24″ Built-In Dishwasher w/ 360° PowerWash Technology – Stainless Steel – $699.99, Reg. $999.99
Kenmore 24″ Built-In Dishwasher with Sani-Rinse – Stainless Steel – $299.99, Reg. $499.99
Home Entertainment
Samsung 60″ Slim LED 1080p 120Hz HDTV – $1,299.99
LG 55″ Slim LED 1080p 120Hz HDTV – $899.99, regularly $999.99
LG 47″ 3D Slim LED 1080p 120Hz – $699.99, regularly $799.99
Samsung 51″ Plasma 1080p 600Hz HDTV – $579.99, regularly $899.99
Samsung 40″ LED 1080p 120Hz HDTV – $599.99
Panasonic 32″ LED 1080p HDTV – $349.99
iLive37″ Soundbar w/ Built-in Subwoofer – $79.99, save $20
Panasonic DVD Hometheater System 1000 Watts, 5.1 Channel – $129.99, save $70
Electronics
HP Pavillion G6 15.6″ Laptop Windows 8 AMD Dual Core Processor – $299.99, save $170
Canon A2300 Digital Camera with FREE 8GB SD card ($19.99 value) – $79.99, save $60
Tool Sets & Tool Storage
All Tools ~ 50% Off
Craftsman 17310 19.2-volt C3 Compact Lithium-Ion Cordless Compact Drill-Driver – $49.99, save $70
Craftsman 17191 19.2-volt C3 Cordless Drill/Driver – $39.99, save $40
Craftsman 9-gal, 3.5 Peak HP Wet/Dry Vac – $39.99, save $20
Clothing
Hanes Flannel Pants & Joe Boxer Fleece PJ Pants – $7.99, Reg. $30
Dockers or Arrow Men's Sweaters – 60% off
Joe Boxer Blanket Sleepers for infants & toddlers – $6.99
Tough Skins Mix & Match Separates for infants & toddlers – $4.99
Fleece sets for infants, toddles, girls and boys – $8.99
Performance Gear Bubble Jackets – $15.99
Carter's Sets for infant & toddlers – 60% off
Housewares
Colormate Textured Quick Dry Bath Towels – $4.99, Reg. $8.99
Black & Decker 5-Qt Slow Cooker (and other small kitchen appliances) – $17.99
Hamilton Beach 4-qt. Slow Cooker (and other small kitchen appliances) – $9.99
Basic Essentials 25-pc. Mega Aluminum Non-Stick Cookware Set – $29.99, after $20 MIR
Forecast Barbados 4-pc. Set – $49.99, Reg. $199
Nordic Track 1/4-zip fleece for me – $9.99, save $20
Craftsman 18-volt drill/driver – $29.99, save $30
Dresses & boy dress-up clothes – 60% off
Coats & cold-weather accessories – 60% off
Fleece hoodies and pants for infants, toddlers, boys and girls – 60% off
Sleepwear for kids from Joe Boxer and Carter's – 60% off
Over at Sears: Through 11/17, get savings on tools: EXTRA $10 off $75, EXTRA $15 off $100, EXTRA $35 off $200, or EXTRA $60 off $300. Use code SAVEONTOOLS
.
Also check out today's real deal: Euro-Pro Factory Recertified Ninja Master Prep Blender with 48 Oz. Pitcher, 400W Motor & Dishwasher Safe Parts for just $24.99 with free shipping.
Also: Melissa & Doug dollhouse, plus LA Gear women's shoes for just $19.99, and more!
Here's a sale just through 7AM Central tomorrow 11/6: Online Only: Greater Gifting Exclusives! Thousands of items on sale, plus EXTRA 5-15% off featured categories.
Free ship at $49, free in store pickup on many items, plus Come Back Cash offers in several categories. Hey, they're already doing an extra 15% off tools on this sale, so stack with the SAVEONTOOLS code above for even better deals.
11/2-11/3 only, Buy More, Save More on Sears.com! EXTRA $10 off $100, EXTRA $25 off $200 and EXTRA $50 off $300 with code NOVSAVE.
Applies only to items sold by Sears, so be sure to sort. Nice deal if you need an appliance, tools, or other large item.
Over at Sears 10/28-11/17, get an extra $25 off appliances, floor care, heaters & other select items over $200 with code APPLIANCE25.
Several Sears Portrait Studio coupons here, including a free photo bundle plus complimentary photo shoot through 11/6!
On Groupon, $89 for a stainless-steel or hard-anodized Cuisinart Pro Classic 10-piece cookware set ($149 list price), which includes:
2-quart saucepan with cover
3-quart sauté pan with cover
5-quart stockpot with cover
2-quart steamer insert
10-inch skillet
Slotted turner
Universal spoon
An additional $5 shipping fee will be charged at checkout.
Over on Amazon: Set of 6 Jumbo-Sized 14 Ounce Colored Ceramic Coffee Mugs (Cafe Europa)
, $14.95 and eligible for free super saver shipping over $25.00. Other varieties available, scroll down the page. As always, Amazon pricing can change quickly.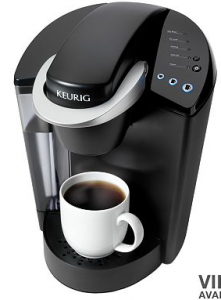 Here's a little Kohl's deal:
Add a K-Cups box for $11.99 or another item to keep your total over $100 post-code for the extra Kohl's cash, so $131.98.
Use code FALL20 for 20% off orders over $100) to drop that to $105.58.
Free shipping since you are over $75.
Get back $20 Kohl's Cash = $85.98.
Send in for the $25 mail-in rebate here = $60.98 for a Keurig + a bonus box of K-Cups!
Not bad

Here's a little Gevalia deal for you: Sign up for their subscription service and get four boxes (note: Smaller boxes, not full-size bags) plus a single serve coffee maker for $9.99 shipped. Note: Since this is a subscription service, you will continue getting more coffee at full price. I'd make a calendar reminder as soon as you order, so that you can decide to cancel if you don't want to keep receiving the products.
Now, Sears is having a major appliances sale — and bonus 5% off over $499 if you use your Sears card. More Sears:
Over at Lowe's: