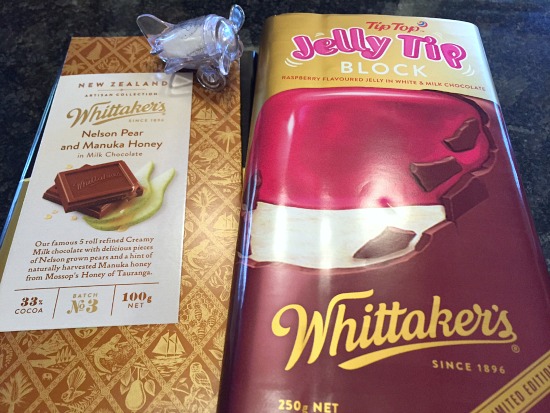 MashupDad just got back from a business trip to New Zealand in the wee hours of the morning, and check out this adorable little salt & pepper plane! Apparently this is what you get with your dinner when there's some snafu with reservations and you get bumped up to first class on the leg from California to Chicago, but I wouldn't know, lol. And the candy bars are ever so slightly different over there…
---
So I guess I'll console myself about never having flown first class with a free 11 oz Starbucks black iced coffee on Jewel MyMixx this morning. It's something. 😉
Oh and on the theme of things that are free, check out the cool DuPage area STEM Expo at IIT in Wheaton next weekend. Aimed at ages K-6th grade, this free event is "designed to promote the awareness of professional and educational opportunities provided among engineering and STEM (science, technology, engineering and math) fields."
Amazon's Gold Box deals today feature ultrasonic cool mist humidifiers, if you're in the market for a new one. (Even though it's apparently now spring in Chicago!)
If you prefer your humidity in elephant form, Best Buy also has a cool mist humidifier on its deals of the day today only: Crane Elephant cool mist humidifer for $24.99 with free in store pickup.
Of course we do have some Amazon subscribe & save grocery & household deals this morning…
And did you catch yesterday's list of 20 cheap Amazon subscribe & save items under $2.00?
So, what's in the early edition Sunday Chicago Tribune I got today? No inserts, that's what. 🙂 Menards is continuing 11% back on everything, while there are nice coupons in the JoAnn & Michaels ads and your usual Presidents' Day sales & coupons from the department stores. In the Target ad, they're introducing new Market Pantry single serve coffee cups, if you want cheap K-Cups — 12 ct for $3.99 starting Sunday — plus there's a $10/$40 select pet care coupon. CVS is continuing milk for $1.99 with $1.00 ECB back.
Speaking of newspapers, Groupon has an extra discount on Daily Herald subscriptions today if you like your news to be uber-local.
---
Prices on Amazon often change quickly; price(s) current as of the time and date of this post. You can cancel subscribe & save or skip a shipment at any time. You get 5% off and free shipping with subscribe & save, or 15% off if you have five subscriptions on the same day/month. For more about coupons & subscribe & save, see the guide here.