Unlike our dear Rachel, I am fortunate enough to have a couple of Meijer stores within reasonable shopping distance. They are both smaller "marketplace" stores, but I do shop there regularly and have been a big fan of the rewards ever since they appeared in mPerks. And they recently updated them to make them even easier to use and more lucrative for the shopper!
Personalized Rewards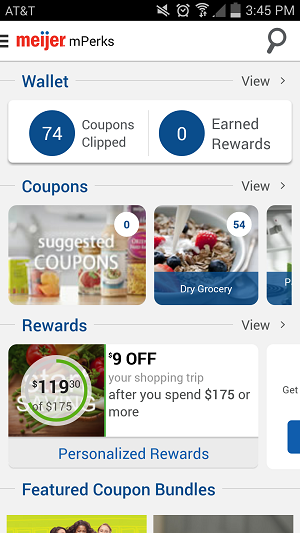 On your mPerks home page, you will see a snapshot of the rewards you are earning. Usually, the first one will be a general dollar amount back when you spend up to a certain threshold. The usefulness of this reward might be the best feature of the new reward arrangement. It used to be that there were three categories of rewards. You could only have one of each active at a time and couldn't add another in the same category until the one you first activated was earned or the end of the month came and they were all reset. This $/$$ type of reward was usually paired with categories I knew I would complete faster like dairy, meat, and produce.
Now, you can activate as many of your available rewards as you like at a time. The only limitation is that the earning period for each reward expires 28 days after you activate it. So on your first trip, you can activate the $/$$ AND any of the categories you are buying to ensure that your spending counts for both the general threshold and the category.
When a reward is earned, you will be able to clip it and it will move to your wallet and it will show you the expiration date. A new reward will become available once the earned one is clipped. The next time you check out with mPerks, you will be asked if you want to use the rewards you have clipped, so make sure you have enough in your cart to take full advantage of your earnings before you say yes. And if you have more than one clipped, it will ask if you want to use the next one once you have exceeded the amount of the previous.
The amount of the required spending that the reward is will vary from person to person, month to month, and category to category. And the actual reward categories can vary by account as well. This dairy, deli, and cheese reward has always been one of my favorites, so my spending requirement is relatively high. But since the rewards are calculated BEFORE any coupons (store or manufacturer), promos, or redeemed rewards, it adds up faster than you think. I am almost half way to earning this $10 reward. Here is how I got there:
Trip 1 ($4.99 credit, $3.24 OOP):
2 bottles Simply Lemonade, $4.00. Used $.75/1 manufacturer Catalina coupon that printed at Meijer and a $1.00/$4.00 refrigerated juice/fruit drink store Catalina.
Dozen Meijer eggs, $.99.
Trip 2 ($12.00 credit, $8.00 OOP):
Trip 3 ($11.39 credit, $4.55 OOP):
10 Yoplait cups, $5.00. Used two regional $1.00/5 coupons I traded for and got 5% off for using my Meijer credit card ($.25).
2 Danimals smoothie 6 packs, $4.00. Used two $1.00/1 from the 8/24 SS and got $.20 off for the Meijer card.
Jell-O pudding 4 pack, $2.39. Free with the two Danimals.
My OOP has been about 55% of what I am getting credit for. If I extrapolate that, I will get $65 worth of dairy, deli, and cheese for net about $28. How cool is that? And for the most part, Meijer has enough good sales on the things I actually need that I don't have to go looking for something to push me over to earn the reward. I needed the lemonade for a party drink and the eggs and yogurt were great prices for things we needed at the time anyway. That said, when I do need something that I can't find a deal on, it is so nice to be able to buy it at Meijer knowing that I am getting at least something for it in earning for the reward.
When the rewards have a smaller threshold like this beauty one, it is easy to work them into a deal for a particular week and make your own deal that can rival a drugstore or Target deal!
The others I have available right now are home appliances/furniture/storage, frozen food, movies/music/books, health care, apparel, and pets. Most of these are low threshold, as low as $5/$20. So any of these has the potential to save me a trip somewhere else by creating a deal on something I need!
AND, once you earn and clip the reward for a category, you can start earning it again (thanks, Kerri)!
Pharmacy Rewards
As you can see, I am not taking advantage of the Pharmacy rewards, but that is only because I don't have any prescriptions to fill.
If I did, I would definitely take them to Meijer. A 5% grocery and HBA coupon is always nice, plus the Catalina machines are VERY generous with these coupons for $20 off your next shopping trip when you fill a prescription.
Baby Rewards
I also haven't made much of a dent in this one, mainly because the closest think I have to a baby is four and thankfully is no longer in need of things that qualify for this one. I did activate it before I bought a tub of wipes to complete her school supply list because you never know, right?
One stop shopping?
Rewards are just one of the reasons that if I had to choose only one store to shop, it just might be Meijer.
I also love that their

Catalina machines

aren't stingy. I often get $/$$ coupons, both general and category-specific.

mPerks

can be great for an extra manufacturer coupon here and there, plus I have been getting great ones lately like BOGO butter, $2/$5 coffee, etc.
They are constantly offering

5% off grocery, 15% off general merchandise

, etc., both through mPerks and for using their credit card.
And I can use all of the

cash back apps

! Both Ibotta and Savingstar work there, on top of Checkout 51 and Shopmium.
Their

acceptance of competitor coupons

can be nice as well.
I find fun

clearance

there almost every time. Last time it was $1.34 boxes of graham cracker crumbs, and often it is meat.Last month I found a $40 immersion blender on clearance for $32. I had a 20% appliance mPerks coupon and a $5 category reward, plus it pushed me over my general spending reward, so my net cost was somewhere between $15 and $20.
Finally, and this might be the biggest thing, I find their

produce prices and shelf prices for last-minute needs to be usually reasonable and often great

. If I run out of cilantro, it may be $.33 at Tony's but I might not need to go there otherwise. If I am already in Meijer it is nice to pay just $.50 as opposed to $.99-$1.99 at Jewel. I recently needed barbecue sauce for a party, and found the shelf price to be 25 cents lower at Meijer than anywhere else (plus I was able to use a 5% off grocery mperk).
If you aren't taking advantage of Meijer rewards, now is the time to start!