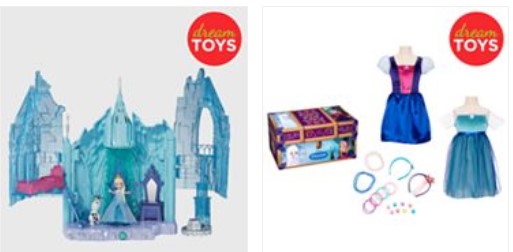 Kohl's has a bunch of Disney Frozen toys on sale! Plus, stack codes to save even more.

$10 off $50 toys with code TOYLIST10 through 10/26.
20% off for charge holders with code OCT20CC through 11/14.
Free shipping with your Kohl's charge on all orders with code FREE4MVC through 10/27.
Free shipping for everyone at $50 with code OCT50SHIP through 10/19.
$10 Kohl's cash for every $50 you spend through 10/22.
You could, for example, buy the Disney Frozen Lights magical palace for $44.99 + a Frozen Elsa Musical light up dress for $35.99 = $80.98. Use code TOYLIST10= $70.98. Use code OCT20CC = $56.78. Get free shipping with code FREE4MVC. Get back $10 Kohl's cash for a net cost of $46.98 for both. Or mix/match any of these toys to get a jump start on your holiday shopping!
(Thanks, Time 2 Save)