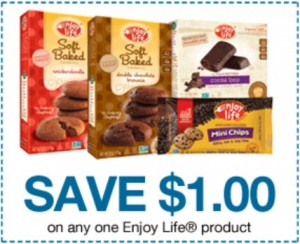 Here's a brand new $1.00/1 Enjoy Life product coupon. Print limit is two!
Now, stack that with the Enjoy Life Ibotta rebates through 9/19 on various products at either Target or Whole Foods, like $1.00 back on Plentils, $1.00 back on cookies, and more. Plus redeem three or more Enjoy Life rebates through 9/19, get a $2.00 bonus.
And, at Whole Foods, there is a $1.50/2 Whole Foods coupon to stack from the July/August Whole Deal, if you still have (no longer available to print but still valid til 9/30).
Enjoy Life products are a favorite with Junior High Guy, and are gluten free + top 8 allergen free.