So I braved the insane windstorm today and stopped by ALDI and Target…
ALDI — had strawberries for $1.49 🙂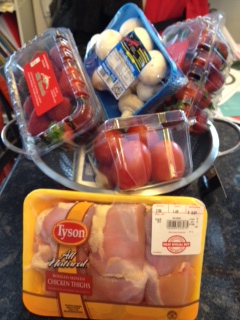 Mushrooms, $.69.
16 oz Roma tomatoes, $.79.
2 packs strawberries, $2.98.
Eggs, $1.59.
Tyson boneless skinless chicken thighs, $3.07.
Colander, $3.99.
Paid $13.58.
Target — had eggs cheaper than ALDI, but…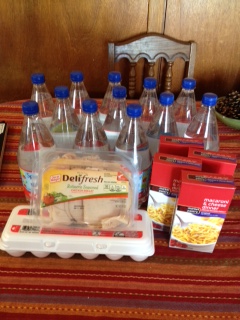 12 Ice Mountain water, $6.00. Used four $1.00/3 coupons (ZIP 60126 then reload). Alas, now I am out of coupons. Love this water!
2 packs Oscar Mayer Deli Fresh, $5.32. Used 20% off on Cartwheel and $1.00/2 from the 1/12 SS.
Eggs, umm… These were marked $1.50 and there is 5% off on Cartwheel, but I'm looking at my receipt and see she didn't ring them up!
4 Market Pantry mac & cheese, $1.45 after buy three get one free, Cartwheel, and $.50/4 printable Target coupon.
OK… in looking at the receipt again, my confused cashier not only didn't ring up my eggs, she missed scanning one of my $1.00 off coupons. So I didn't pay the $1.43 I should have for my eggs after Cartwheel, but I should have gotten another $1.00 off in coupons, so I guess this came out to $.43 less + food tax than it should have been. Paid $8.25, so $21.83 total for today. And I swear I didn't actually try to steal eggs from Target!