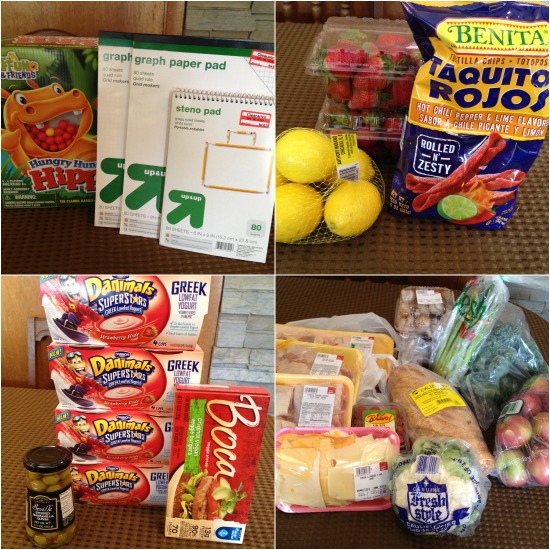 On the way home from yoga today, I figured I'd stop at the Lombard Target and then hit the little line of stores down Roosevelt: Ultra, ALDI, Pete's. Why three kinds of chicken? Well, I thought it would be fun to do a taste test. I couldn't find organic thighs at Pete's, but did pick up Perdue, generic store chicken, and Miller Amish chicken. I'm going to take chicken thighs from each and cook them at the same time in the same pan with the same seasonings and see what the verdict is, since we've been talking a lot about chicken here lately. (With the rest of the chicken, I'm making mushroom artichoke chicken madness!)
Target
Hungry Hungry Hippos, as many of you have commented, was $19.99 in store. I got it anyway because Mr. 7 played at a friend's house, liked it, and has actually been asking for it for some time.
Hungry Hungry Hippos, $19.99. Used 50% off on Cartwheel and $5.00/1 printable to get it for $4.99.
Two pads clearance graph paper, $1.16.
Clearance steno pad (Mr. 7 is also obsessed with small notepads), $.28.
Paid $7.37.
Ultra Foods
The Lombard store had a bunch of Tylenol Cold in the clearance cart for $2.50, and there is a $3.00/2 in the 2/9 SS if you want $1.00 cold medicine. All exp. April 2014.
4 Danimals SuperStars Greek yogurt 4 packs, $7.92. Used four $1.00/1 from the 2/23 SS, and there's also a $1.00/1 printable here.
Manzanilla olives, $.88.
Boca burgers, $2.99. Used $1.00/1 printable.
Got $.05 off for bringing a bag and paid $6.95.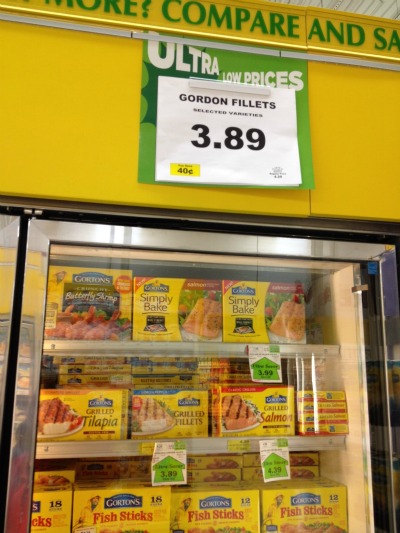 Also at Ultra Foods… Soylent Fish is ME! eep
ALDI
Two packs strawberries, $1.98.
Bag of lemons, $.79.
Taquitos Rojos, $1.69.
Paid $4.54.
Pete's Fresh Market
Asparagus, $1.52.
Organic kale, $.89.
Crimini mushrooms, $2.21.
More Crimini mushrooms, $2.38.
Grape tomatoes, $1.48.
Cauliflower, $1.67.
3 lb McIntosh apples, $1.99.
Sourdough bread, $3.29.
Cheese ends (looks like cheddar, Swiss, Muenster), $2.68.
Perdue chicken thighs, $2.16.
Generic chicken leg quarters, $1.40.
Miller Amish cut up fryer, $7.23.
Used a $5.00 reward from my Pete's Rewards card. Paid $24.32. So today I spent $35.81 on groceries, and $7.37 on other randomness. I just added up my grocery spending for the week and I'm at $75.96, mostly due to my expensive cat food + litter trip to Target earlier this week — but I also think I'm done for the week, lol.