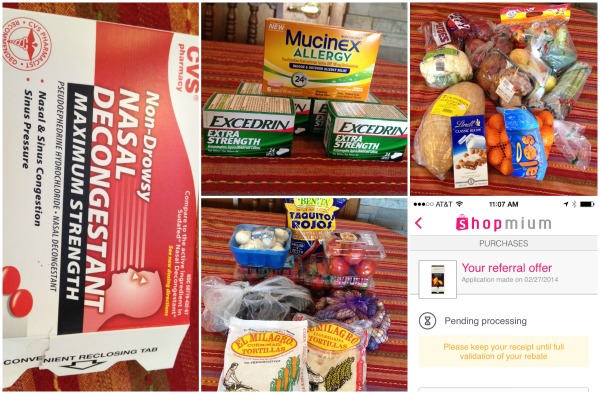 So… Junior High Guy's school bus didn't come today (don't even get me started on the buses) and I had to drive him to school after he'd waited outside WAY too long in 5 degree temperatures, poor guy. Figured since I was out and dressed and driving around anyway, I'd shop on the way back. Today's trip features free drugs, expensive drugs, and too much produce in a vain attempt to hurry spring.
CVS
So yesterday I went to urgent care, sure I had strep. Nope. It's "a virus" — and they gave me steroids to clear stuff up and suggested the real deal Sudafed that works and is kept behind the pharmacy counter. After proving I wasn't likely to make meth in my bathtub with my one box, a 48 ct pack of CVS brand pseudoephedrine ran me $9.96. Yes, it's open, since I took some as soon as I got home, I'm that sick 🙁 .
Then up front I got:
4 Excedrin extra strength, $19.96. Used four $2.00/1 from the 2/23 SS.
Mucinex Allergy, $7.50. Used $5.00/1 from the 2/23 SS.
Used a 20% off non-sale items coupon that randomly came in the mail. Paid $.87 and $10.00 ECB. Got back $10.00 ECB from Excedrin, for a net cost of $.87. Will send in for the $2.50 Mucinex rebate in the 2/23 SS, which will net me another couple bucks after stamp for a small money maker.
Pete's Market
Lindt bar, $2.00. Submitted for $2.00 back on my Shopmium referral welcome offer.
5 lb red potatoes, $.98.
Broccoli, $.36.
Cauliflower, $1.23.
Asparagus, $1.12.
Mini sweet peppers, $.98.
Red apples, $1.40.
Green apples, $.88.
3 lb clementines, $3.99.
Sourdough bread, $3.29.
Meat ends, $2.27. Yeah. These are MashupDad's new favorite thing, since you never know what deli goodness you'll find buried in there, lol.
Got $.05 off for bringing a bag and paid $18.91. Should get $2.00 back from Shopmium for a net cost of $16.91.
ALDI
5 avocados, $2.95.
1 lb roma tomatoes, $.79.
Mushrooms, $1.49.
2 lb strawberries, $1.98.
Flour tortillas, $.89.
Corn tortillas, $.35.
Fingerling potatoes, $1.49.
Taquitos rojos, $1.69.
Paid $11.83. So for the day: I paid $41.57. I'll get back $2.00 from Shopmium and about another $2.00 after stamp for Mucinex, so net $37.57. Of which $10 was… knockoff Sudafed, bah! 🙂